Date: 31 Oct 2023
---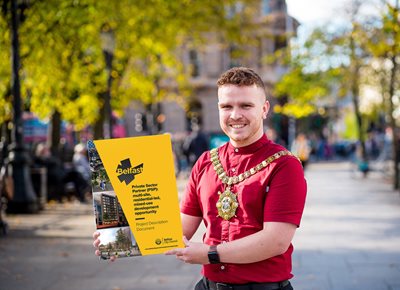 Belfast City Council has begun the search for a suitably experienced long-term partner to help deliver over half a billion pounds worth of multi-site, residential-led, mixed-use developments across the city.
Belfast aims to welcome an additional 66,000 new residents by 2035 – that's the ambitious target stated in its community plan, The Belfast Agenda. To fulfil that ambition, an estimated 31,600 quality new homes will need to be built, with a focus on promoting city centre living as part of the joint vision and an agreed approach for a Bolder Vision for Belfast.
Belfast Lord Mayor Councillor Ryan Murphy said: "This is a bold approach, in that we're seeking to bring forward residential-led, mixed-use development across the city. And it comes at a really exciting time for Belfast. We're the powerhouse of the regional economy and we're perfectly positioned for investment, with both Dublin and London in easy reach.
"We've seen significant regeneration in our city centre in recent years, including Ulster University's new city centre campus, and multi-million investment in the Belfast Grand Central Station and wider Weavers Cross development. And we're excited about our inclusive, resilient, low-carbon future. In the next decade, £1bn from the Belfast Region City Deal – and investment in the waterfront, active and sustainable travel, culture, and tourism infrastructure – will continue to transform our city and make it an even better place to live, work, invest in, and visit.
"We're passionate about creating a more vibrant, more inclusive, and more liveable city centre, while enhancing quality of life for all our citizens. Investment in quality homes, placemaking, connectivity and social infrastructure lies at the heart of that vision.
"We've committed to developing new homes and using the council's land to help our city grow and thrive. That's why we're now looking for a long-term partner who shares our ambition and vision for Belfast and can help us build an inclusive city that works for everyone."
Following active engagement with the private sector and investment market, the council is now seeking a long-term Private Sector Partner (PSP) which will act as a master developer to bring forward sustainable development, with high quality placemaking and people at its core.
The council is seeking a partner with a proven track record in successfully delivering housing-led regeneration, across a range of tenures, with credentials in delivering lasting positive social, economic, and environmental impacts, matching the scale of Belfast's ambition.
Concept plans show an opportunity to develop residential-led, mixed-use developments on four city centre seed sites, with potential for further residential-led, mixed-use development and regeneration across the city on additional opportunity sites.
Keith Hardman, International Partner, Head of Development & Strategic Advisory, UK at Cushman & Wakefield added: "Cushman & Wakefield is very pleased to be supporting Belfast City Council in the partner selection process for this exciting multi-site development project. It represents an excellent residential-led, mixed-use opportunity for developers and investors to play a major role in the continuing transformation and growth of Belfast as a destination for sustainable high-quality city living."
For more information, visit www.belfastcity.gov.uk/development-opportunity