Date: 14 Oct 2019
---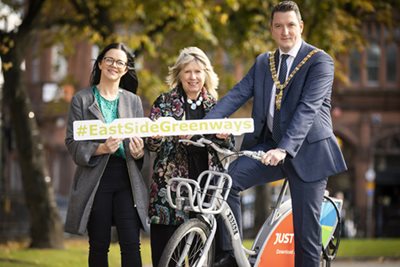 A plan exploring the potential for a wider network of Greenways across east Belfast has been welcomed by Belfast Lord Mayor Councillor John Finucane.
A plan exploring the potential for a wider network of Greenways across east Belfast has been welcomed by Belfast Lord Mayor Councillor John Finucane.
Building on the success of the east Belfast regeneration project Connswater Community Greenway, one of only three projects in the UK to be awarded 'Living Landmark' status, the EastSide Greenways concept plan aims to influence and explore the potential for a wider network of Greenways linking into a city-wide and regional network.
Speaking at the launch of the plans in City Hall, Lord Mayor of Belfast Councillor John Finucane said: "The development of Connswater Community Greenway has been a real success story – not just for the east of the city, but for Belfast as a whole in terms of improving connectivity and enhancing accessibility.
"As part of Council's proposed green and blue infrastructure plan and our open spaces strategy for the city, we recognise that parks, open spaces and waterways provide a range of economic, social and environmental benefits.
"Council wholeheartedly supports the development of these plans to further expand upon the existing greenway, and explore new networks and establish direct linkages to our city centre.
"Protecting, developing and improving access to good quality open spaces for everyone improves people's health and wellbeing, supports urban wildlife and biodiversity and encourages investment in the city's economy – all ambitions within the Belfast Agenda; so the plans which have been unveiled today by EastSide Greenways are very welcome and I look forward to seeing them come to fruition."
Engagement has already been undertaken with a number of key stakeholders to ensure their contribution and support for the EastSide Greenways concept plan, these include; Belfast City Council, Department for Infrastructure, The Executive Office, The National Lottery Community Fund and Sustrans NI.
The EastSide Greenways concept plan has the potential to;
Identify potential greenway routes in addition to the current Comber and Connswater Community Greenways
Identify existing links that could be enhanced
Identify potential new linkages that would enhance accessibility across the network
Highlight the proximity of the network to existing community facilities and other destinations
Develop the relationship of communities to the network
Develop network 'hubs' such as C.S. Lewis Square
Integrate the network with other transport infrastructure
Encourage linkages with the city centre, Titanic Quarter and other key destinations
Integrate the network with wider city and regional cycle and pedestrian networks
Michele Bryans from EastSide Greenways added: "We are very excited to be moving onto the next phase of our journey and to bring with us the vast knowledge gained from developing the Connswater Community Greenway.
"It is our role to encourage the use and enjoyment of parks, gardens, rivers and off-road transport routes in east Belfast and to promote the sustainable planning, design, management, maintenance and improvement of green spaces for the benefit of the public.
"EastSide Greenways will not only assist in developing the existence of our current Greenways but will help us build on its success as we aim to connect east Belfast and Belfast City into a greater network of Greenways.
"We could not achieve this without the support of our fantastic partners, our volunteers and the local community. On behalf of EastSide Greenways we would like to thank them for their continued support especially as we look to the future."