This page is more than a year old and may not contain the most up-to-date information.
Date: 15 Jan 2021
---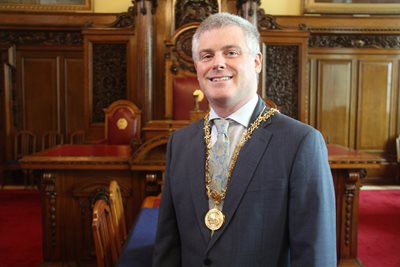 East Belfast Councillor Michael Long has been appointed as the new High Sheriff of Belfast.
A member of the Alliance Party at Belfast City Council, he replaces DUP Councillor Nicola Verner as the 121st High Sheriff of Belfast.
Looking ahead to his year in office, Councillor Long said: "I'm absolutely delighted to take on such a prestigious role and be appointed as the new High Sheriff of Belfast. The past 10 months have been an incredibly challenging time for all our citizens, but I'm looking into the New Year with renewed optimism that better days are ahead.
"I'm looking forward to a busy year and will do my upmost to support the work of the office of Lord Mayor and Deputy Lord Mayor throughout 2021."
Councillor Long was first elected to Belfast City Council in 2014 and represents the Lisnasharragh DEA.
He has served on many committees on Belfast City Council including Strategic Policy and Resources and Brexit.
Historically, the role of High Sheriff has been 'protector of the monarch`s interests'; however, it is now largely ceremonial and - since 1973 - the appointment has been made by the Secretary of State, based on a nomination from Belfast City Council.
The High Sheriff will take up office for a full calendar year, from January through to December.
For more information visit www.belfastcity.gov.uk/council and find out more about the High Sheriff role.