Date: 05 Oct 2018
---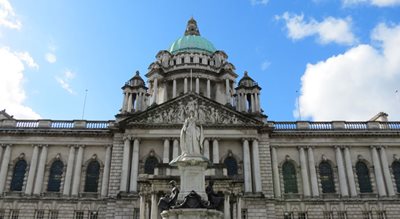 Many Businesses worst affected by the Bank Buildings fire will be able to apply for funding to aid their financial recovery from today (Friday 5).
Many Businesses worst affected by the Bank Buildings fire will be able to apply for funding to aid their financial recovery from today (Friday 5).
Members of Belfast City Council's Strategic Policy Resources Committee met this morning and have agreed details of the £500,000 support package which was donated by Primark following the devastating blaze which has resulted in a number of businesses and charities being unable to operate as they remain inside the safety cordon.
The fund will be open for a six-week period until Monday 19 November.
The £500,000 from Primark was given on the understanding that it would provide direct support to affected small businesses and that the resources would be focussed on local traders. Council has looked at a number of options and agreed the zone in which smaller businesses will be eligible to apply for support.
As a result, the following criteria will be applied to businesses within the zone:
• independent retailers with less than 50 employees;
• charities;
• offices displaced by the fire;
• single location franchises with less than 50 employees.
Under this criteria, 90 businesses (in Castle Street, Fountain Street, Chapel Lane, Bank Square, Berry Street, King Street, Royal Avenue, Lower Garfield Street and Castle Court) have been identified as being eligible to apply for funding. This does not include any multi-national chain stores or multiple location franchisees.
A differential level of support will also be applied for businesses within the cordon and those outside the cordon. Businesses within the cordon will be allocated a more substantial level of support than those outside, given the increased level of impact on their business:
• Independent retailers/charities inside the cordon - £19,000
• Offices inside the cordon - £2,000
• Affected independent / small businesses outside the cordon within the defined zone - £5,000
Council officers will be contacting eligible businesses to make them aware of the support package and guiding them through the application process. Council will process applications within days and if an applicant is deemed eligible, they will receive funds directly into their account.
Alderman Jim Rodgers, Chair of Belfast City Council's Strategic Policy and Resources Committee said: "We have tried to make this as fair and simple a process as possible. We know some traders may be disappointed that they don't meet the eligibility criteria but we have had to introduce an eligibility scheme which will see the money go to those who need it most. We have also carried out extensive consultation with the businesses themselves over the last number of weeks, along with our city partners including Belfast City Centre Management, Belfast Chamber of Trade and Commerce, and Belfast One.
"As well as taking on board feedback from one-to-one meetings with businesses affected by the fire, we have considered data on footfall and there is a large consensus that eastern parts of the city may not have been impacted as severely; and in fact some businesses have not seen any decline in footfall or sales at all, which is very encouraging. Footfall has also increased in some streets which have become the new thoroughfares for pedestrians."
Alderman Rodgers added: "Council is committed to leading the recovery operation for our city centre and offering our business community all the support it needs to get back to business as usual, and restore Belfast to the very vibrant place we know it to be. Our ongoing #YourBelfast advertising campaign will be supported by a programme of city centre events, mini festivals, and themed activities and entertainment, over the coming months which will help to drive footfall into the city centre and benefit businesses.
"It is vital that we work together to deliver the best support possible and ensure Belfast's economic resilience in the longer term. This financial assistance will be very welcome, but we understand it is only a short-term fix to help with cash flow while business claim from insurance companies. Council and its city partners will continue to support investment in regenerating our city centre and looking at what we now need to do to reimagine it, and look to other cities for best practice and ideas to regenerate the part of our city centre most impacted by this devastating event."
Belfast City Council has today (Friday) received the first listed building consent application from Primark which officers are immediately processing.
The public consultation period is now open and will run until Monday 22 October. Details will be available on the Council's planning portal www.belfastcity.gov.uk/planning
Council will also consult with the Department for Infrastructure and Department for Communities (Historical Environment Division) as required by the legislation.
A special meeting of Council's Planning Committee is expected to be called by Friday 26 October to consider next steps.
Council is also proactively seeking solutions and working with Primark to reduce the cordon as soon as possible, and as soon as it is safe to do so. Depending on the outcome of the consultation around Primark's proposed works, Council is hopeful that pedestrian access could potentially be restored between Donegall Place and Royal Avenue before Christmas – subject to health and safety considerations.
For more information and updates visit www.belfastcity.gov.uk/bankbuildings