Date: 21 Sep 2018
---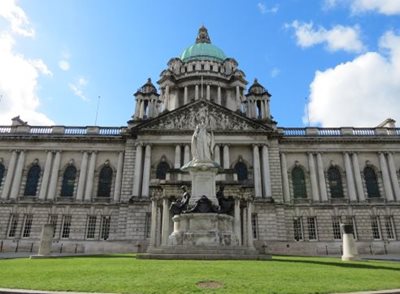 Members of Belfast City Council's Strategic Policy and Resources Committee have today agreed that they will inject more resource into supplementing the recovery of the city centre.
Members of Belfast City Council's Strategic Policy and Resources Committee have today agreed that they will inject more resource into supplementing the recovery of the city centre.

The Council is estimating its overall spend to support businesses to attract people into the city will be in the region of £1.25 million (on top of the £500,000 given by Primark) between now and Christmas.

It follows Primark's announcement earlier this week that it is to donate £500,000 to Council's wider city recovery investment programme to help businesses affected by the fire. In relation to this contribution, Councillors also agreed that a cash flow support package for the worst affected businesses would be developed over the next two weeks.

Alderman Jim Rodgers, chair of the Strategic Policy and Resources Committee, said: "The scale of this disaster has had an immediate and profound impact on Belfast city centre and has left us facing huge challenges in the weeks and months ahead.

"We are determined as a Council to lead this recovery operation and offer our business community all the support it needs to get back to business as usual, and to support those traders who, while outside the cordon, are also suffering a reduction in footfall and sales.

"Each of the businesses has different needs and priorities. It is vital that we work together to deliver the best support programme possible, and ensure Belfast's economic resilience in the longer term. This will not be a short term fix but support investment in regeneration of the city."

The city recovery investment programme put in place by Belfast City Council is planned to run into 2019, focusing towards Christmas trading and beyond. The Programme is providing targeted support for businesses severely affected.

It will invest in the city to improve connection and movement and make key streets and thoroughfares attractive. The programme will fund opportunities and animations to increase footfall to key streets - so that closed off areas created by the cordon are attractive destinations.

Belfast City Council is monitoring and measuring the impact of the 'yellow dot trail' and wayfinding signage which was introduced in immediate response to the cordon. This work will inform improvements and help Council support businesses by driving footfall, with street animation, transport and retail offers, and city dressing all part of plans.

The Council is also developing ways to help people find their way around the city to the unique and real mix of shops that we have.

Alderman Rodgers added: "All parties have given a commitment today to move as quickly as possible in the decision-making process to ensure there is no delay which could jeopardise or hinder the city's economic recovery.

"We recognise the necessary urgency for businesses and traders, and continue to work proactively with all our partners to restore the city to the very vibrant place that it is. We will be meeting again with all of the businesses affected in the coming days to help decide what will drive footfall in their particular area, between now and Christmas.

"This will require a strategic approach by Council and its city partners, and we will be looking at how we might take this opportunity to reimagine our city centre and look to other cities for best practice and ideas for how we might approach regenerating this part of our city centre."

Belfast City Council is also closely tracking the focus on economic impact so that we can make a case to government for long term support. Councillors are also calling on central government, both here in Northern Ireland and via the NIO, to invest in this recovery package.

Members were also given an update on the physical state of the remaining Bank Buildings structure. The building remains in an extremely dangerous state and is structurally unsound. Recent high winds caused by Storm Ali resulted in an internal steel beam falling and loose debris was blown off the building.

The debris fell within the cordon and the cordon remains intact. The greatest concerns are around the stability of the chimneys and clock tower and the upper floor.

Significant expert assessment of the building is ongoing, and Members were reminded there is 'no quick fix'. Given the precarious nature/level of instability of the building this remains a difficult process.

This continues to be a complex engineering challenge no matter which solution is agreed. The focus remains on getting a final solution agreed and getting our city centre back to normal as soon as is physically possible.

Belfast City Council is working closely with Primark and relevant statutory agencies under the terms of the Planning Act and other legislation such as building control which makes provision for works to listed buildings.

Council is ready to progress any relevant applications when a decision is taken by Primark regarding the future of the building.