Date: 26 May 2020
---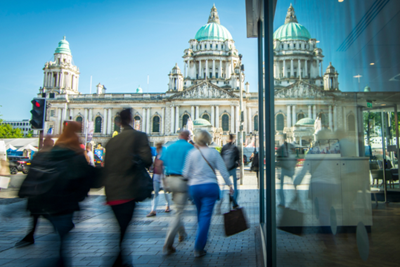 Councils across Northern Ireland are urging the Executive to give them the financial support they need to help high streets and non-essential retail outlets, and the hospitality and cultural sectors to reopen.
Councils across Northern Ireland are urging the Executive to give them the financial support they need to help high streets and non-essential retail outlets, and the hospitality and cultural sectors to reopen.
The issue was discussed earlier today at the Economy Committee which took joint evidence from NILGA and SOLACE.
SOLACE and NILGA made the Committee aware of the announcement by the High Streets Minister that councils in England are to be given £50m to help businesses introduce measures that will allow them to reopen safely, in accordance with the public health advice around social distancing.
Speaking on behalf of SOLACE, Belfast City Council's Chief Executive Suzanne Wylie, said: "Councils have been working together to assess the impact of the current pandemic and resulting lockdown on local businesses right across the region. Towns and city centres have been extensively impacted, and this will continue as various sectors such as retail and hospitality reopen.
"Individual councils are at the early stages of working with their business community to support them to reopen and to adapt their current business models. They are also planning how to reimagine and reinvigorate local high streets, and provide the public with confidence that measures have been put in place to ensure their safety when they come back into town. We have seen lots of very innovative examples of outdoor restaurant spaces for example and flexible use of public space.
"Our High Street and town centres are the key drivers to help restart the economy and provide stability as we enter this period of recovery; however, there is very little dedicated Government money earmarked to support this work.
"We are genuinely concerned that this critical section of our economy and our workforce will struggle to survive unless they receive the financial support they so desperately need to adapt and recover from this unprecedented global event.
"Councils have a fundamental role in local economic development and we would ask for this to recognised with a specific financial support package, similar to that being delivered to councils in England, which will enable councils here to play our full part in the rebuilding and recovery that is required for this section of the economy.
"We are actively considering how we can support, provide advice, market, and coordinate as appropriate, a range of practical measures – including signage and markings, and temporary barriers to ensure social distancing while queuing - to help people feel safe and confident to re-enter retail outlets on our high streets and town centres.
"This will cost money, and we are appealing to the NI Executive to support councils in helping to deliver these measures to achieve a safe, accessible, yet socially distant environment on our high streets."
The Chief Executive of Belfast City Council is to write to the Economy Minister, on behalf of SOLACE, as a matter of urgency to emphasise the need for a similar support package from an NI perspective, and seek information on what proposals are being considered.
SOLACE and NILGA have also called for more Government support for micro-business, rapid skills development programmes, and an integrated approach to recovery across Government and in partnership with councils and local business organisations.
NILGA spokesperson, Derek McCallan, added: "NILGA joins SOLACE in this request for financial support for councils to revitalise our high streets across every part of NI. The role of councils in economic recovery and on the Covid-19 front line has been applauded, but without specific resources to do city, town and village centre revitalisation work, we run the risk of being slower in our response than all other regions, at a time when we need to and can be full throttle to get our economy back on track.
"Here is an opportunity that councils will deliver on, if funded to do the same work as local authorities are doing right now in other parts of the UK. The results of this High Street recovery work - if councils are given the resources - will yield a massive return on the investment provided."