This page is more than a year old and may not contain the most up-to-date information.
Date: 02 Mar 2021
Category: Reducing waste
---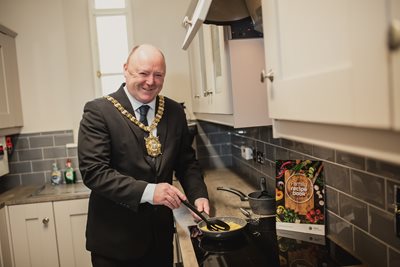 It's #FoodWasteActionWeek and to celebrate, Belfast City Council is launching a free family recipe book aimed at tackling food waste.
#FoodWasteActionWeek encourages everyone to stop and think about the amount of food they waste and take practical steps to improve how they manage, use and store food at home.
Statistics show that across the UK, households waste 6.5 million tonnes of food each year. However, by implementing some simple steps to reduce the amount of food they waste, people can save money and help fight against the impact food wastage has on climate change and the environment.
The council's new family recipe book is full of delicious, quick and easy meal ideas for breakfast, lunch and dinner, which focus on using the many different ingredients people have stored in their cupboards and fridge-freezers.
It also includes helpful hints and tips on how to better store food at home, how to understand food use by and sell by dates, offers meal planning ideas and reminds us to recycle any food that we cannot eat using our food waste caddies.
Lord Mayor of Belfast, Alderman Frank McCoubrey believes the new recipe book offers a new and fun way of tackling the issues of food wastage at home.
He said: "This #FoodWasteActionWeek we're tackling the issue head on with the release of our very own family recipe book aimed at reducing the amount of food we waste at home.
"Managing the weekly food shop, prepping and cooking meals can be a challenging experience for lots of people, especially families. Knowing how much to buy, the correct place to store food and how best to use ingredients can often leave people confused.
"Ultimately, food waste is a waste of money and with the help of our new recipe book, we're hoping to help and guide people to make better use of food at home."
He added: "The recipes are easy to follow and offer healthy and delicious meals for all the family to enjoy. I'd encourage everyone to get their hands on a copy and get cooking."
The launch of the family recipe book also supports the council's #KeepBelfastRecycling campaign. This campaign asks residents to 'rethink recycling' this spring to help improve recycling rates across the city, protect the environment and help council save money which can be used to support other projects across the city.
For more information on the family recipe book visit www.belfastcity.gov.uk/recipebook. To request a free copy, email - wasteeducation@belfastcity.gov.uk
And for more information on how to reduce food waste at home visit Love Food Hate Waste.