Date: 25 Sep 2023
---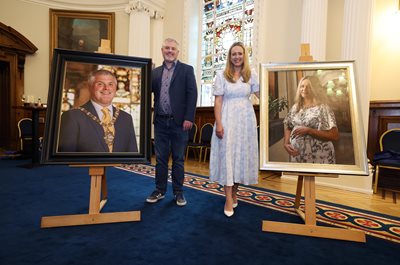 The official portraits of two former Lord Mayors of Belfast are now on display at City Hall
The portraits of Kate Nicholl MLA and Councillor Michael Long were unveiled at a small reception this evening (Monday 25 September).

Kate Nicholl became Belfast's First Citizen in June 2021, serving her term until May 2022. Councillor Long took over for the remaining weeks of her year of office, becoming Belfast's shortest serving Lord Mayor.

In keeping with tradition, Kate Nicholl's portrait has been produced by a local artist – Coalisland-based Catherine Creaney – and her depiction shows the former Lord Mayor with a growing baby bump.

Daughter Etain was born shortly after Kate left office, with the former councillor continuing to carry out her duties late into her pregnancy.
Cllr Long's brief term in office is marked with a photograph from his installation.

Both portraits will now take their place among portraits of other previous Lord Mayors hanging in the corridors of City Hall.

The current Lord Mayor of Belfast, Councillor Ryan Murphy, attended tonight's unveiling and said: "Creating a visual record of a Lord Mayor's time in office is a long-standing tradition here in Belfast, and these portraits are important reminders of how our city has changed and diversified over the years.

"They are viewed multiple times daily on free public tours of City Hall and are widely regarded as adding to the building's rich history.

"Every new portrait adds further to this unique collection of public art, as well as continuing to give local artists the chance to showcase their skills and talent and have the opportunity for their work to be seen by thousands of visitors each year."

Acclaimed artists whose depictions of previous Lord Mayors are currently on display at City Hall include Colin Davidson, Robert Ballagh, JB Vallely and Nicola Russell.