Date: 26 Nov 2018
---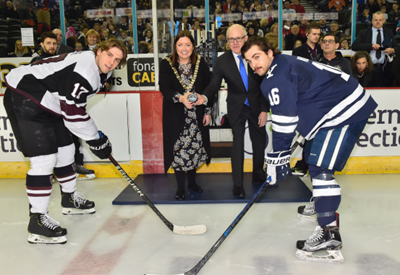 Union College have been crowned champions of this year's Friendship Four 2018.
Union College have been crowned champions of this year's Friendship Four 2018.

In front of a packed crowd at the SSE Arena, Union College took on Boston University in the final, claiming a 2-1 victory which seen the team ring out the prestigious Belpot Trophy in celebration.

The Lord Mayor of Belfast, Councillor Deirdre Hargey stepped onto the ice at the SSE Arena on Friday night (23 November) to perform the ceremonial puck drop at the opening game alongside United States Ambassador to the UK, Robert Johnson.

Hailing the success of the games and offering her congratulations to the winning team, she said: "The Friendship Four has been a huge success and the buzz in the arena all weekend has been fantastic.

"This tournament is one of the great success stories of our Sister Cities Relationship with Boston. It continues to go from strength to strength each year, and is one of Belfast's premier sporting events."

"It simply would not be possible without the amazing efforts of the organising team, our partners, the teams and league officials who have devoted so much time and energy into making this event possible.

"Congratulations to Union College and I can't wait to see what 2019 has in store for the tournament."

The Friendship Four kick started a busy few weeks of US sporting action in the city. The Naismith Memorial Basketball Hall of Fame Belfast Classic, presented by the Sport Changes Life (SCL) Foundation and its partner the Metro Atlantic Athletic Conference (MAAC) also makes a welcome return to the SSE Arena from Thursday 29 November to Saturday 1 December. Eight US colleges will compete across the three days, in what promises to be another action packed event.