This page is more than a year old and may not contain the most up-to-date information.
Date: 04 Dec 2020
Category: Supporting businesses, Supporting communities
---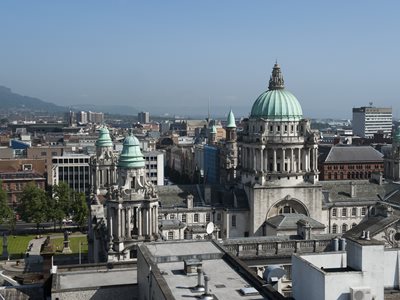 Over £300K grant aid is being offered by Belfast City Council to help business groups and community organisations enhance their areas, as part of the Department for Communities' Covid-19 Revitalisation Programme.
The one-off Business Cluster and Community grant will support Belfast based not-for-profit/community groups, business collaborations and partnerships to carry out environmental improvement schemes before the end of March next year, through capital grants of between £10K-£25K.
Councillor David Brooks, Chair of Belfast City Council's City Growth and Regeneration Committee said: "As part of our Belfast: Our Recovery plan in response to challenges posed by the Covid-19 pandemic, we're focused on regenerating Belfast's arterial routes, our urban villages and local communities. So we're grateful for the Department for Communities, and Department for Agriculture, Environment and Rural Affairs investment which will make this possible.
"Our new Business Cluster and Community grant is the result of extensive conversations with community and business representatives, and the City Reopening external stakeholder group. We're looking forward to receiving proposals for capital projects which will support business recovery, enhance physical spaces, increase civic participation and sense of ownership, and encourage people to live, work, visit and invest in local areas. Proposals could include parklets, lighting schemes, shop frontage enhancements, street furniture, or planters, to name but a few.
"We're really keen to see proposals which will help groups of businesses and community organisations adapt and attract footfall and spend in local areas in these challenging times."
Communities Minister Carál Ní Chuilín said: "I introduced this programme to provide tangible support to our councils, businesses and communities as we work to respond to and recover from the impacts of the pandemic. This funding will support the regeneration of our city and arterial routes. I would encourage the city to get involved in offering proposals to benefit our high streets and communities."
Groups and partnerships should visit Business cluster and Community Grants for more information and email cgugrants@belfastcity.gov.uk to request an application form and guidance notes.
Successful applicants will receive grant funding on a first-come, first-served basis until the funding pot has been fully awarded. The cut-off point for accepting applications is 4pm on Monday 18 January 2021.