Date: 18 Jan 2019
---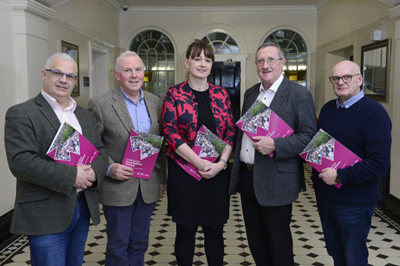 Members of the public are being asked to give their views on a new draft strategy promoting Good Relations.
Members of the public are being asked to give their views on a new draft strategy promoting Good Relations.

Belfast City Council launched the consultation at Crumlin Road Gaol this week, outlining its vision for progressing community relations in the city.

The draft strategy will act as a companion to Council's Belfast Agenda, the city's first community plan, and will provide a framework for city leaders to deliver a shared city - a city reimagined, connected and inclusive.

Launching the consultation, Cllr John Kyle, Chair of Belfast City Council's Shared City Partnership said: "Good community relations are essential for a healthy and safe city, and fostering a sense of belonging and ownership for everyone regardless of race, religion, or cultural identity.

"This new draft strategy aims to create a framework for delivery as we continue our journey away from the conflict and division of the past. As city leaders, we want Belfast to be welcoming and to celebrate its diversity ensuring everyone feels included."

Councillor Kyle added: "We know that the most successful cities in the world are those that are the most diverse. We believe that this new draft strategy will enable us all to play our part in building a better city for residents and visitors alike, where our different identities can be a strength and our diverse cultural traditions can all be part of our collective cultural wealth".

The consultation is seeking feedback on five key areas:
1. Strong, positive and transformative civic leadership – inclusive governance with community change makers.
2. Shared and connected spaces – a smart, connected city driven by inclusive and transformative place making
3. Shared services – focusing on co-design and social innovation
4. Structured collaboration and partnerships
5. An intercultural city and respectful cultural expression within the rule of law.

The draft strategy is available on the Council's website and people can give their feedback online at www.belfastcity.gov.uk/consultations

There will also be four information events in February and March where members of the public can discuss the draft strategy with Council staff and also provide feedback in person. The events will take place as follows:

• 21 February at Girdwood Community Hub from 12pm – 2pm
• 26 February at Crescent Arts Centre from 7pm – 9pm
• 4 March at East Belfast Networking Centre from 1pm – 3pm
• 7 March at Colin Allotments Healthy Living Centre from 12pm – 2pm

The closing date for submitting responses to this consultation is 4pm on Thursday 11 April 2019.