Date: 14 Feb 2019
---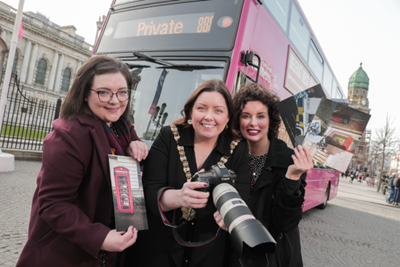 A photography exhibition focused on the theme of 'Home' and developed by people with a mental health illness, addiction or learning disability, was launched at City Hall today (Thursday 14 February) by Belfast Lord Mayor, Councillor Deirdre Hargey.
Belfast City Council, working in partnership with the charity Inspire and Translink, commissioned the 'Home through the Lens' project to coincide with the Council's wider cultural engagement programme exploring what 'Home' means to the citizens of Belfast.
Over the past 12 weeks, eight participants from Inspire - a charity which supports people living with mental ill health, addiction or a learning disability- have been working with photographer Kelly Morris to learn photography skills to capture, explore and translate their relationship with the city of Belfast as their 'Home' through still images.
The photographs will be displayed on 10 buses giving commuters a unique opportunity to view the exhibition as it tours streets and communities across Belfast.
Speaking at the launch of the exhibition Lord Mayor of Belfast, Councillor Deirdre Hargey commended the work of the group. She said: "This is a fantastic initiative aimed at tackling the stigma that surrounds mental ill health and addiction and learning disabilities. What this group has achieved over such a short period is fantastic. The images they have captured are very powerful and it's interesting to see the different interpretations that the word 'Home' has for different people.
"I would encourage as many people as possible to come and view the exhibition and challenge your own thoughts as to what 'Home' means to you."
Peter McBride CEO of Inspire added: "Reducing the stigma around mental ill health and addiction is an important part of our work at Inspire, so we were delighted to have the opportunity to take part in this important and innovative project.
"For many people living with mental ill health or addiction, the concept of 'Home' can be a complex and provocative one - a fact we can see, reflected in the images the group have created. Yet, by giving voice to the opinions of the participants, by displaying the product of their art in such a public space and by providing the challenge of learning a new skill, this project has been an overwhelmingly positive experience for Inspire and a strong anti-stigma statement from Belfast City Council. We could not be prouder of all the participants and staff who supported them."
Translink's Employee Support Officer Una Carson said: "As a public transport provider and an employer we are aware of our responsibility to tackle the stigma of mental health in our community. We work closely with Inspire in various areas of mental health awareness and support and are delighted to be involved in this thought-provoking initiative."
The exhibition will be on display on buses around the city from 14 to 28 February. There will also be a semi-permanent exhibition in Lanyon Place station and the exhibition will then continue to travel throughout 'Inspires' wellbeing centres.
To find out more visit the 'Inspire' website on www.inspirewellbeing.org.