Date: 10 Nov 2020
Category: Supporting businesses
---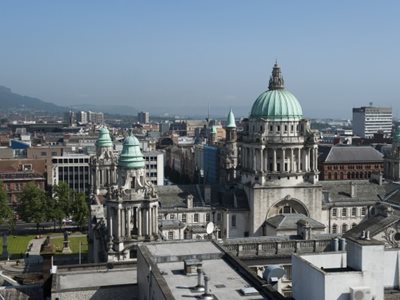 There's plenty of free inspiration and advice on offer for Belfast based entrepreneurs during Global Entrepreneurship Week from 16-22 November.
Part of an established global initiative, events during the week from Belfast City Council, The Prince's Trust, Ulster Bank, Innovation Factory and others will offer something for entrepreneurs of all ages, stages and backgrounds.
Launching this year's events, Chair of Belfast City Council's City Growth and Regeneration Committee, Councillor David Brooks, said: "Global Entrepreneurship Week is even more important in 2020, with many more people considering starting their own business as a result of redundancy during the pandemic. There's a wealth of support available to people who would like to start, or who have started their own business, from Belfast City Council and our partners throughout the city.
"We've made a commitment in the Belfast Agenda to foster business growth and nurturing our existing and budding entrepreneurs with professional advice and support is a really important part of our city recovery efforts – these people will be the future of our thriving business community here in Belfast."
The week's flagship event on Thursday 19 November "Inspiring Entrepreneurs: A virtual lunch for entrepreneurs and enablers" features Emma Jones MBE, best-selling author of the business books 'Spare Room Start-Up', 'Working 5 to 9', 'The Start-Up Kit' and 'Turn Your Talent into a Business'. It's tailor-made for entrepreneurs or those interested in starting a business and those involved in encouraging entrepreneurial activity within their community or network.
An entrepreneur in her own right, Emma set up Techlocate at the age of 27 and successfully sold it 15 months later. She is the Founder and CEO of Enterprise Nation, a small business membership community of over 75,000 people.
Emma was awarded an MBE for Services to Enterprise in 2012 and was appointed by the then UK Prime Minister as a Business Ambassador with a focus on increasing international trade in 2016. In 2019 Theresa May appointed Emma to co-chair the Prime Minister's Small Business, Scale-up and Entrepreneurs Business Council.
On Friday 20 November, the Buy Belfast Virtual Christmas Market will launch on Facebook, running until Sunday 20 December 2020, supporting local businesses and entrepreneurs to sell their products online.
For information on all events taking place during #GEW2020, visit www.belfastcity.gov.uk/events and search the business category.