Date: 08 Mar 2019
---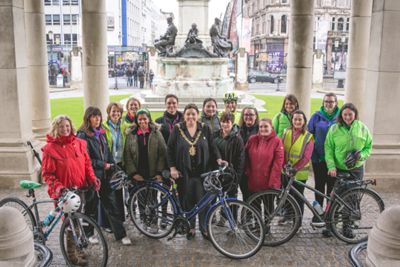 Belfast Lord Mayor Cllr Deirdre Hargey met with women from across the city at City Hall today, Friday 8 March, after a led ride organised by walking and cycling charity Sustrans to mark and celebrate Internation
Belfast Lord Mayor Cllr Deirdre Hargey met with women from across the city at City Hall today, Friday 8 March, after a led ride organised by walking and cycling charity Sustrans to mark and celebrate International Women's Day.
Cycling has been growing in popularity in recent years, but male cyclists still outnumber female cyclists three to one in Belfast.
Undeterred by the rain, the women donned their waterproofs and cycled from the Gasworks along the Alfred Street cycleway to Belfast City Hall where they met Lord Mayor, Councillor Deirdre Hargey.
"I'm delighted to meet with women from Sustrans this morning as we celebrate International Women's Day and this year's theme #BalanceforBetter. During my year in office, I'm focused on helping to shape a Belfast that's more welcoming and equitable for everyone – so I'm really encouraged to see these women finding the confidence to get on their bikes and exercise and socialise together.
"I've met so many inspirational women in my time as First Citizen so far – women who are giving so much of themselves to improve society, quality of life and opportunity for others. International Women's Day is about recognising the resilience, energy and unique strengths that women bring to the world – and also encouraging men and women to support one another more along life's journey."
The aim of today's ride was to raise the profile of cycling among women and encourage more to get on their bikes for their commute or leisure. Today's group of 20 women included city centre employees from a number of public sector organisations and Women from the Top of the Rock Healthy Living Centre, in west Belfast who are involved in a Sustrans Community Active Travel Programme.
Sustrans Bike Life report, produced in partnership with the Department for Infrastructure, showed that as many as 80 per cent of women never cycle in Belfast and that just 29 per cent of women rate city cycling as safe, with many calling for more protected cycleways, separate from traffic.
In order to tackle the gender gap in cycling, Sustrans runs a Women into Cycling programme, a free six week course providing on-road cycle training, bike maintenance skills and support. To find out more about how you could get involved in a spring or summer programme, go to www.sustrans.org.uk/events/women-cycling-programme
Other participants in the ride were from the Leading the Way programme, funded by the Public Health Agency. It aims to get people more active on their journeys to and from work and daily routine and focuses on a number of large employers in the Belfast area: the Public Health Agency, Belfast City Council, Belfast Health and Social Care Trust, Business Services Organisation, Department for Infrastructure, Health and Social Care Board, RQIA.