Date: 08 Oct 2018
---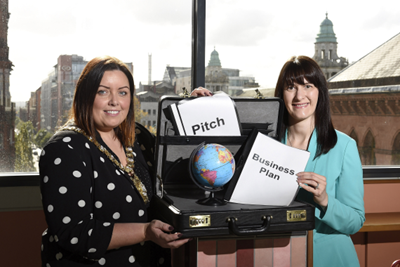 Belfast City Council is calling on entrepreneurs and start-ups to help invest in the city, one business at a time, by taking part in this year's Global Entrepreneurship Week.
Running from 12 – 18 November, the Belfast area celebration of the global initiative will offer a variety of free events aimed at engaging budding or existing entrepreneurs from every sector, putting them in front of organisations and individuals who can help them reach the next level.

As part of the week-long programme, Belfast City Council is working with local enterprise centres as well as a number of support organisations, from banks and start-up supporters to health and safety advisers and employee rights groups, to create a diverse support network offering something to help every type of entrepreneur in the area.

Launching this year's programme of events, the Lord Mayor of Belfast, Councillor Deirdre Hargey, said:

"We look forward to Global Entrepreneurship Week each year as it presents an opportunity for us to show new business owners and budding entrepreneurs the depth of support available to them via both ourselves at Belfast City Council and the support organisations throughout the city.

"With this year's theme of 'Investing in our city's future, one business at a time', we will have a number of events created for new SMEs as well those who are taking their first steps in business during GEW. We want to nurture and encourage these ideas with professional advice and support as they will be the future of our thriving business community here in Belfast."

There will be two flagship events during the week – a 'Pitch To Pros' competition and a 'Start A Business' exhibition event in the City Hall – with enterprise centres and business hubs across the city hosting their own bespoke seminars, classes and exhibitions.

The 'Pitch To Pros' event, sponsored by Glandore, B4B Telecoms, MSM Law, Bywater and MCE, will take place in Glandore's city centre co-working space, on Wednesday 14 November. The competition will offer graduates of the 'Go For It' or similar programmes a chance to have their business plans analysed by some of the finest business minds in the city and a chance to walk away with £5000 cash for their business. The runners-up will receive one year's free membership of the Innovation Factory, and the third-placed business will get six months' free membership of Glandore.

The competition is open to individuals in the Belfast City Council area who have started a new business in the last two years. Entries are now open at www.belfastcity.gov.uk/GEW.

The 'Start A Business' event, hosted in the Great Hall in City Hall on Thursday 15 November, will be a free to attend exhibition event with over 20 advice organisations on hand to answer questions and impart advice on attendees on the day. There will be stalls covering key areas for new businesses from funding, grant support, energy costs, tech support, innovation, strategy, cross-border trade and more.

For information on all events taking place during #BelfastGEW18, you can visit www.belfastcity.gov.uk/GEW and follow the links within each event description to register and reserve your place where needed.