Date: 05 Dec 2018
---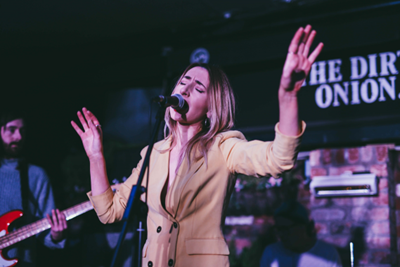 Ireland's largest music conference, 'Output Belfast', takes place for the fifth year in a row on Thursday 21 February 2019.
Top names from the global music industry are being lined up to speak at Ireland's largest music conference, 'Output Belfast', which takes place for the fifth year in a row on Thursday 21 February 2019.

For the last four years, the conference has hosted keynote presentations and conversations by many of the globe's top thinkers and influencers in music -from legendary music producer Steve Albini to London night Czar Amy Lame, from Spotify's European head of songwriting Jules Parker, to 'Line of Duty' composer Carly Paradis. Output Belfast is now recognized nationally as being an unmissable event in the music calendar, both in terms of the daytime activity, and also the evening music discovery and showcasing events.

Organised by Belfast City Council - the conference will include panel discussions, music sessions, workshops and speed networking events as well as keynote speeches from award-winning musicians and managers of globally recognized talent.

Based at The MAC, the conference is expected to be attended by around 600 local artists, businesses and students, and will address the challenges and opportunities that the music industry presents, highlighting the key role that music and performance plays within Northern Ireland's buoyant creative industries sector.

Announcing the details of this year's event, Councillor Donal Lyons, Chair of Belfast City Council's City Growth and Regeneration Committee, commented:

"Since its inception in 2015, 'Output Belfast' has been an invaluable event for those working, or seeking to work, in the local music industry, and the wider creative sector, by providing them with invaluable insights into every aspect of the business, from tips on writing to how to get the results in front of the right people.

"As outlined in the Belfast Agenda, our community development plan for the city between now and 2035, the Council continues to play an important role in the development and growth of the creative economy and the city's international reputation for its distinct and original creative sector is growing rapidly. Through our support for events such as 'Output Belfast' and South By Southwest, we are clearly demonstrating this commitment to support the ongoing development of our creative industries and help both them and the city as a whole reap the benefits they bring to our economy and wider community."

Among the panels and speakers at the 2019 event will be:

• 'What Do Live Agents Actually Want When Signing New Bands?', featuring Mark Meharry (CEO Music Glue), Matthew Bartlett (Midnight Mango Agency), Steve Farris (13 Artists) and Stephen Curran (MCD);

• 'Making Compelling Music Podcasts', with Dave Hanratty (No Encore), Brian Coney (The Thin Air), Stephen Hill (Riot Act) and Mick McCullagh (Son of The Hound/Mad Notions);

• CMU presents 'Get Paid As Well As Played' (aka Top 'Five Reasons You Don't Get Paid'), featuring Chris Cooke (Complete Music Update) and more;

• 'Unpacking How To Make Facebook Advertising Pay You More', with Rob Nancollas (Motive Unknown);

• 'Music Supervision in Irish Comedy - Derry Girls and Young Offenders', featuring Pete Saville and Zoë Bryant ('Derry Girls' music supervisors) and Dina Coughlan ('Young Offenders' music supervisor);

• CMU present 'Music Industry Speed Briefing Sessions' (x 2);

• How To Conquer The World Of Spotify Playlisting', featuring Mike Murphy (Ditto Music), Joe Mason (Ditto Music);

• 'Where Is Folk And Trad Heading In 2019?', featuring Jarlath Henderson (musician), Tim Chipping (River Lea Records/FRoots Magazine) and more;

• 'How To Crack Scotland', featuring Vic Galloway (BBC Scotland new music champion), Caroline Campbell (Belladrum Festival/Ironworks Venue), Joe McAlinden (ex-Teenage Fanclub/Superstar) and Alex Smith (Xpo North Conference);

• 'How To Crack Wales', featuring Andy Jones (Focus Wales), Jo Southerd (Producer, BBC Radio Wales), Gruff Owen (Director, Libertino Records) and Liz Hunt ('Wales Goes Pop' and The Moon Venue, Cardiff)

• IMRO present 'How To Write A Radio Hit';

• 'The Self-Releasing Music Toolkit', featuring Nathan Barley Phillips (Tunecore)

• 'Building Your Perfect Team in Rock and Metal', featuring Simon Glacken (PR, Anathema/Paradise Lost), Megan Burns (Tone Mgmt), Tony Boden (agent, CKY/Rolo Tomassi) Serena Cherry (Svalbard);

• 'Media Composers vs Music Supervisors - There Can Be Only One!', featuring Joe Spicer (Channel 4), Oisin Lunny (award-winning composer), Simon Pursehouse (Sentric) and more

• 'Pay for Indie PR or Do It Yourself? Navigating Early Press Opportunities', featuring John (Jawdropper PR), Shauna Tohill (Rews), Lyndon Stephens (Quiet Arch) and more.

In the evening there will once again be a raft of free showcasing, featuring the most exciting new Northern Ireland artists, taking place across Belfast's Cathedral Quarter. Confirmed hosts include Champion Sound, Jawdropper PR, The Live Room Belfast, Chordblossom, The Thin Air, Nialler9, Midnight Mango, Girls Rock School NI, PRS For Music and IMRO.

To sign up for priority updates on the 2019 edition of Output Belfast, visit www.outputbelfast.com.