This page is more than a year old and may not contain the most up-to-date information.
Date: 03 Aug 2020
---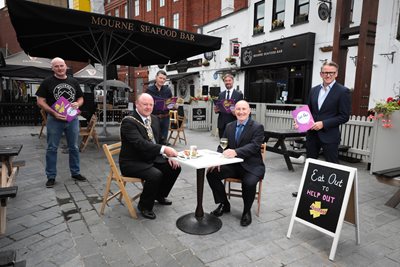 As the UK Government's 4-week initiative 'Eat Out to Help Out' gets underway, Belfast's first citizen, Lord Mayor Alderman Frank McCoubrey was doing just that.
The Lord Mayor was joined for lunch at Mourne Seafood Bar, one of over 100 participating city restaurants, by Gerry Lennon (Visit Belfast), Stephen Mewha (Belfast One), Chris McCracken (Linen Quarter) and Paul McErlean (Destination CQ).
Visit Belfast, in partnership with Belfast One, Linen Quarter and Destination CQ have implemented a marketing campaign to promote eating out in Belfast in support of city centre businesses. The initiative is aimed at encouraging people across the UK and Northern Ireland to dine out Monday to Wednesday and receive 50 per cent off their bill (up to £10 per head) from 3 to 31 August. The partnership marketing campaign is designed to drive footfall back into Belfast City Centre.
Alderman McCoubrey said: "The 'Eat Out to Help Out' scheme is a great way to support our city centre hospitality businesses as they get back on their feet. It provides a great opportunity for people to return to the city, and enjoy dining out safely while getting up to £10 off their bill.
"Belfast's hospitality is world-renowned and has played such an important part of the city's regeneration of recent years. It continues to be an exceptionally challenging time for our restaurants, cafes and gastro pubs and bars and they will be key to the City's overall recovery.
"I welcome the partnership efforts between Visit Belfast and the three city centre BIDs in developing a Belfast campaign to attract customers back in to city restaurants, cafes and eateries – I encourage you to Eat Out to Help Out this August and do your bit in protecting the thousands of jobs within our hospitality sector."
Hundreds of millions of pounds have been invested in the city's visitor economy over the last decade, making it a significant contributor to the city's overall economic success. In supporting this UK-wide initiative, Belfast hopes to safely attract people from across Northern Ireland back into the city centre. Visit Belfast's Chief Executive Gerry Lennon said:
"Over the last few years, Belfast has become synonymous with great food and dining experiences. It's great to see such a variety of eateries participating in the initiative, from gastro pub to hotels and fine dining restaurants, all working hard to ensure a responsible and welcoming environment for people to enjoy with confidence."