Date: 17 Oct 2018
---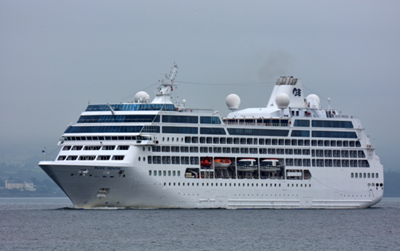 The Lord Mayor has congratulated the organisers of the Cruise Belfast on an award-winning, record-breaking year in 2018.
The Lord Mayor of Belfast, Councillor Deirdre Hargey, has congratulated the organisers of the Cruise Belfast on an award-winning, record-breaking year in 2018.

Today (Wednesday 17 October) marks the end of an award winning cruise season for Cruise Belfast – the partnership between Belfast Harbour and Visit Belfast – with the arrival of the final ship of the year, the 'Black Watch'. Since March 2018 a record-breaking 185,000 passengers and crew have called at Belfast which has been named as one of Europe's most popular cruise destinations by the influential Cruise Critic website.

Cruise Critic, the world's leading cruise review site and online cruise community, named Belfast a one of the winners of its third annual Cruisers' Choice Destination Awards. The awards, which are based entirely on consumer ratings submitted with reviews, name the world's most popular cruise destinations.

Belfast was recognised as one of the best cruise destinations in the British Isles and Western Europe Cruise Destination award category. New in 2018, the awards also highlight the best cruise lines to visit each region. The other destinations names in the category are Edinburgh, Lisbon, Amsterdam and Bilbao.

The Lord Mayor commented:

"This award is the icing on the cake for what has undoubtedly been an astounding year for the Cruise Belfast programme, and a fitting tribute to the hard work and dedication of everyone involved in helping to make our city one of the must-see destinations for cruise liners and their passengers."

"Tourism is central to the Belfast Agenda. Our goal is to double the value of tourism by 2020 and we are on track to achieve this through commitment, ambition, drive and significant investment. Initiatives such as Cruise Belfast are the cornerstone to us fulfilling our aspirations."

Michael Robinson, Belfast Harbour's Commercial Director, said:

"This has been a record breaking and award winning cruise season for Belfast with almost 200,000 visitors providing a significant boost to the local tourism sector. This is a great city and its popularity as a cruise destination continues to grow year on year, with an unprecedented 115 ships visiting during 2018. August was our busiest month ever with 24 cruise calls bringing over 40,000 passengers and crew.

"We are delighted that visitors have enjoyed their experience of Northern Ireland and Belfast Harbour continues to work hard with stakeholders to build on our current offering. The success of these efforts was seen earlier this year when we announced Disney Cruise Lines will be berthing here in 2019."

Mary Jo McCanny, Director of Visitor Services, Visit Belfast, added:

"With many millions of pounds of investment in our tourism infrastructure and visitor experiences, there has never been a better time to visit Belfast, and to be recognised by such a prestigious platform as Cruise Critic speaks volumes for the work that has been done to improve and enhance the cruise experience here.

"For everyone involved in tourism, it's rewarding to see that a large percentage of the reviews were classed in the 'excellent' and 'very good' categories, demonstrating the positive experiences cruise visitors have when visiting Belfast and Northern Ireland."

Destinations awarded in this year's awards received the highest ratings among cruisers who cruised to the destination in the past year and shared their experiences on Cruise Critic.

"Our data regularly shows that whether you're a first-time cruiser or you've sailed dozens of times, destination is a top consideration when shopping for a cruise," explained Colleen McDaniel, Senior Executive Editor of Cruise Critic.

"While tropical destinations will always be popular among cruisers, what's really exciting to see is the rise in esteem of destinations more known for their immersive and experiential offerings.

"By awarding top destinations and now the best lines that visit them, we're even better able to connect travellers with standout experiences available in the incredible places they're looking to explore."

For full details on this year's winners, visit the 2018 Cruise Critic Cruisers' Choice Destination Awards.

Cruise Critic boasts the world's largest online cruise community, with more than 350,000 cruise reviews, covering approximately 500 cruise ships and over 300 worldwide ports.

Set up in 1999, Cruise Belfast is a marketing and visitor servicing partnership between Belfast Harbour and Visit Belfast to attract cruise visitors to Belfast and Northern Ireland. In the last decade, the number of cruise visitors to Belfast has quadrupled.