This page is more than a year old and may not contain the most up-to-date information.
Date: 21 Oct 2021
Category: Climate and biodiversity
---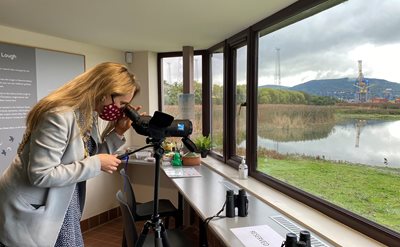 Belfast's first citizen discovers another hidden gem as she continues to 'Love Local' visiting the RSPB's Belfast Window on Wildlife
The Lord Mayor of Belfast, Councillor Kate Nicholl visited the RSPB's Belfast Window on Wildlife on the shores of Belfast Lough as she continues to go off the beaten track to discover some of the city's hidden gems, in partnership with Visit Belfast.
As the tourism recovers from the effects of the pandemic, the Lord Mayor is encouraging everyone to get out and explore the city and its wider environs for themselves.
Lord Mayor of Belfast, Councillor Kate Nicholl said:
"Belfast's unique location between hills and sea offers visitors and locals a fantastic range of beautiful green spaces to enjoy nature.
"We are so lucky to be able to transport ourselves from the hustle and bustle of the city centre to the tranquil surrounds of Belfast Lough to discover the precious habitats that continue to support a vast array of birds, insects and plant species. I'm thrilled to be able to come down to the RSPB's Belfast Window on Wildlife to catch a glimpse of the migrating birds and meet the team who are working so hard in conserving their habitat and this special place, right at the edge of our city."
Reflecting on the importance of supporting the city's natural spaces and being a tourist at home, the Lord Mayor added:
"The pandemic has given us all time to reflect on our lives and I think we are all more keenly aware of the natural world around us and how it can improve our wellbeing and mental health. By discovering what's on our own doorstep, tourism can support our local conservation and nature efforts and ensure these previous resources are here for future generations to enjoy too."
On welcoming the Lord Mayor to RSPB Window on Wildlife, Gregory Woulahan, RSPB NI Director of Operations and Head of Land said: "We are delighted to welcome the Lord Mayor – just 10 minutes from the city centre, our Window on Wildlife showcases nature on your doorstep. If you are one of the many people who have started to notice more wildlife in your local area since lockdown, it's well worth a visit as you'll definitely spot something special. From flocks of black-tailed godwits to tiny colourful teals - there's a host of wildlife to discover."
Visit Belfast's CEO Gerry Lennon said:
"By being a tourist at home, the Lord Mayor will discover authentic experiences at one-of-a kind businesses, as well as meet the people behind them that preserve the local character and communities that they serve.
"Building back better is key the city region's recovery. From locally sourced and produced goods that are better for our environment, to supporting local jobs in community as well as city centre areas, these unique and original experiences tell Belfast's stories in a way that sets the destination apart and gives visitors more reasons to come to Belfast."