This page is more than a year old and may not contain the most up-to-date information.
Date: 11 Dec 2020
---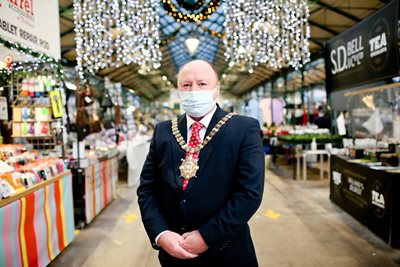 Belfast Lord Mayor Alderman Frank McCoubrey has hailed the resilience of local traders during the ongoing pandemic, as St George's Market reopened its doors to customers this morning
The popular weekend market had been temporarily closed for two weeks, in line with NI Executive Covid-19 restrictions, but today traders made a welcome return to their stalls as they prepare for a busy festive season.
Visiting St George's Market this morning, Alderman McCoubrey said: "It has been an exceptionally difficult time for small, independent businesses including our market traders, but they have shown tremendous resilience throughout.
"While Council has been able to support some traders in taking their businesses online, for others it has not been possible - so getting back to the Market to trade will be crucial in helping to get these businesses back on track and sustain jobs.
"There is a real sense of community spirit among the traders and although there aren't the usual festivities and events this year, there is still a wonderful atmosphere and I hope people will consider shopping local and supporting the traders this Christmas. St George's enjoys a very loyal customer base and I know that people will be pleased to see it open its doors again."
Belfast City Council has been working hard to put the necessary measures in place to ensure traders can operate safely, and to help both them and customers stay safe and adhere to the current restrictions.
Visitors to St George's Market are asked to wear a face covering and to observe social distancing at all times.
Alderman McCoubrey added: "It is more important than ever that we do not drop our guard, and that we all continue to follow the public health advice to help stop the spread of Covid19. I would appeal to everyone that if they are visiting the Market or shopping in the city centre, to please do it safely - continue to sanitise your hands often, wear a face covering and keep your distance.
"With the appropriate safety measures in place alongside visual signage of our new 'confidence mark', customers can feel at ease, and I'm delighted that the Market can welcome visitors back in a safe and reassuring way."
St George's Market is open Friday 8am-2pm, Saturday 9am-3pm, and Sunday 10am-3pm. It will also be open for extra hours in the run-up to Christmas, from Monday 21 December – Thursday 24 December.
For more information on opening hours, visit www.belfastcity.gov.uk/markets