Date: 03 Jan 2019
---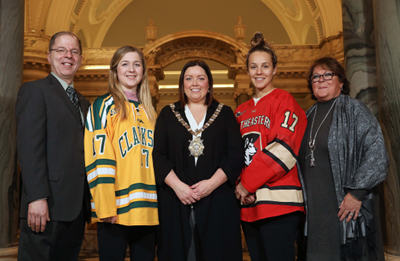 The Lord Mayor welcomed female athletes from two top US universities to Belfast today - in the city to compete in the first international NCAA (National Collegiate Athletic Association) women's ice-hockey games held at the SSE Arena this weekend.
Teams from Clarkson University and Northeastern University are taking part in the 'Ulster University Friendship Series'. Clarkson University are the 2018 NCAA Champions and Northeastern University, the 2018 Hockey East Champions.
The games follow the successful Friendship Four NCAA men's ice-hockey festival which has taken place in November for the past four years and sees four NCAA teams compete for the Belpot Trophy.
Lord Mayor, Councillor Deirdre Hargey, met with representatives from the two colleges at City Hall today along with officials from the NCAA and the Odyssey Trust, ahead of the games this Saturday and Sunday. The Friendship Series will take place at 3pm and 12pm each day – directly before the Stena Line Belfast Giants vs Sheffield Steelers Elite games at 7pm and 4pm.

The Lord Mayor said: "I'm delighted to welcome the teams from Clarkson University and Northeastern University to Belfast today to take part in the first ever Friendship Series games.

"We have just come off the back of the fourth Friendship Four festival which proved to be a huge success. Thousands of international visitors descended on the city and experienced the warm hospitality and energy of Belfast. The excitement and buzz down at the SSE Arena was incredible and the competing colleges put on a fantastic show for all the spectators.
"Friendship Four is one of the great success stories of our Sister Cities relationship with Boston. It continues to go from strength to strength each year and I am delighted that Belfast will get the opportunity once again to build on these links as we host the first Friendship Series.
"The event will be important in terms of not only bringing additional visitors to the city and in terms of putting Belfast in the international map but it will also demonstrate further the accessibility of sport and the significant role it can play in building bridges, vibrant communities and connecting citizens. These top female athletes will also be encouraging greater opportunities for women and girls here to get involved in sports during their visit."

Shane Johnson, Project Manager of the Friendship Series, said: "The Ulster University Friendship Series is the first time that teams of this high standard will play outside of North America and we are honoured they have chosen Belfast.
"I know that Giants fans will be excited to see Clarkson and Northeastern compete on their home ice with both teams having a rich history of success. We encourage them to bring along as many friends and family as possible to see these prestigious games. We want to make the Friendship Series open to everyone to watch and welcome these great athletes to Northern Ireland."
For more information on the Friendship Series games, visit https://www.ssearenabelfast.com/ulster-university-friendship-series-2019 or watch the tournament live at https://live.belfastgiants.com/