Date: 19 Oct 2023
---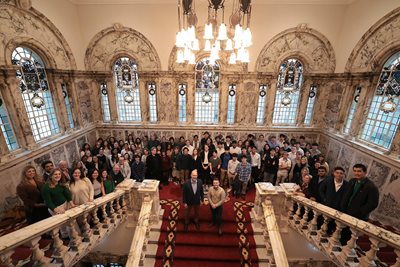 Lord Mayor of Belfast, Councillor Ryan Murphy, has officially welcomed Northeastern University's "NUin" students to Belfast.
Hosting a welcome event at Belfast City Hall on Thursday October 19, the Lord Mayor of Belfast remarked: "It's an honour to welcome this prestigious cohort from our Sister City Boston and beyond. They're the first students to undertake this tailored cultural module, learning more about and experiencing our great city for themselves. It's fantastic to host them here just shortly after we welcomed more than 2,000 young leaders from over 90 countries to Belfast for the One Young World Summit.
"Working in partnership with Consul General James Applegate and his team, our U.S. Special Envoy for Economic Affairs Joseph Kennedy III and our local partners, we're working to demonstrate that Belfast is ready for further investment and partnership opportunities that will improve quality of life for all of our citizens. We very much appreciate the support of our city partners including Queen's University Belfast, who help to shine a positive spotlight on our city."
The civic event, supported by U.S. Consul General James Applegate, saw the NUin students welcomed to Belfast City Hall to enjoy local cuisine and music.
Northeastern University, located in Boston USA, has sent its first cohort of "NUin" students to Belfast to participate in a prestigious semester abroad programme at Queen's University Belfast.
The students, who are drawn from across North America and beyond, commence their Northeastern University degree abroad. After completing their first semester of university at Queen's, the students will progress to the Northeastern campus in Boston in January 2024.
NUin is a unique study abroad programme with partner sites around the world. This year, Northeastern has sent students to a variety of locations including Greece, Czech Republic, Scotland, France, Italy and Northern Ireland. The goal of the programme is to provide students with an enriching and immersive first semester abroad, whilst allowing them to complete their degree requirements for Northeastern University. In addition to studying core requirements such as physics, chemistry, maths and biology, the students all take a cultural module called "Belfast: City, Culture, Society" which includes field trips to a range of local tourism sites, museums, and historical buildings.
President and Vice-Chancellor of Queen's, Professor Sir Ian Greer, commented: "Queen's is delighted to join the global NUin partner network this academic year. International partnerships are a key priority for Queen's within our Strategy 2030 plan and NUin provides another, enriching element to the already strong relationship the University enjoys with Northeastern. Our visiting students from NU join a vibrant and diverse student population at Queen's and we wish them every success with their first semester of university study."