Date: 27 Oct 2023
---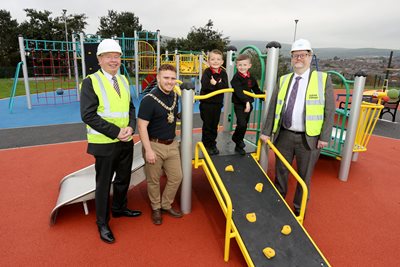 Marrowbone Millennium Park in north Belfast has reopened following a major £4.3 million redevelopment.
New facilities include an IFA intermediate standard 3G pitch; a pavilion with 128 spectator seats, a multi-use community space and accessible changing facilities; a new play park; a multi-use games area; an outdoor gym and a community events space.
The project was funded by The Executive Office's Urban Villages Initiative, Belfast City Council and the Department for Communities, with additional land provided by the Northern Ireland Housing Executive.
Belfast Lord Mayor, Councillor Ryan Murphy said: "The redevelopment of Marrowbone is a massive boost for the local community. The 3G pitch has been increased to 95 metres in length, and a 128-seater stand installed in the new pavilion, meaning that it will now be able to host IFA intermediate standard league matches for the first time.
"I'm sure that local children will be thrilled with the fantastic new play park which features a range of accessible equipment, while I know that the community will welcome the new events space, the MUGA, the outdoor gym equipment, as well as the new paths throughout the park.
"With work set to begin early next year on a £5.4 million project to transform Ballysillan Playing Fields into another destination public park, these two projects will provide state-of-the-art sport, play and leisure facilities for the north of the city. They represent an investment in people's health and wellbeing, while also playing a significant role in regenerating communities."
The Executive Office's Deputy Secretary for Good Relations and Inclusion, Gareth Johnston, said: "This represents a significant investment in the health and wellbeing of residents, and in the facilities available for community organisations and sporting clubs. We hope the redeveloped park will become a valued asset and shared space for a wide range of community events and activities for years to come."
The Department for Communities' Director of Belfast Regeneration, Patrick Anderson said: "This is a transformative investment at Marrowbone Millennium Park and all those involved should be proud of what has been achieved. The Department is pleased to be supporting community development in collaboration with a range of stakeholders, delivery partners and residents."