Date: 17 Oct 2018
---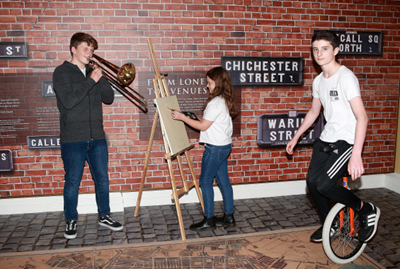 A new EU PEACE IV funded cross-community project has been launched which seeks to bring people together through arts and heritage.
A new EU PEACE IV funded cross-community project has been launched which seeks to bring people together through arts and heritage.

The 'Creative Communities' initiative will see eight artists or historians-in-residence appointed to work with communities in eight areas of the city, to develop a piece of art or a heritage product associated with the relevant area.

The eight areas are:

• Lower Ormeau Road, Sandy Row, Donegall Pass and the Markets;
• Broadway and the Village;
• Colin and Dunmurry;
• Lower Shankill and Divis, from Townsend Street to Northumberland Street;
• Clonard and mid-Shankill, from North Howard Street to Lanark Way;
• Woodvale, Ardoyne and Marrowbone;
• Carlisle Circus; and
• Short Strand and Inner East Belfast.

Launching the project, Councillor John Kyle, Chair of Belfast City Council's Shared City Partnership, explained its objectives and how it will work:

"Creative Communities aims to help people feel part of their community, help them deal positively with diversity and difference, make people more tolerant of those from different communities, and increase respect for other cultures.

"A steering group will be set up in each of the eight areas to write the brief for their artist or historian with a view to appointing someone by December 2019. Each artist or historian-in-residence will then work with local people and run regular workshops to make a piece of art or develop a heritage product. It could be a show, a book, a film, a tour, or something we haven't thought of yet!

"We want local people to decide what they want in their area."

All eight projects will finish by the autumn of 2021.

The project is part of Belfast's PEACE IV Action Plan, financed through the European Union's PEACE IV Programme and managed by the Special EU Programmes Body (SEUPB).

Welcoming the project, Gina McIntyre, CEO with the Special EU Programmes Body, said:

"The citizens of this region unfortunately still live in a society which suffers from high levels of distrust and social segregation. This highly imaginative project will help reduce division through the medium of art and history to help bring together people from different cultures and backgrounds.

"Working in partnership alongside experienced artists and historians they will be able to create something permanent that reflects the shared thoughts and values within diverse communities. Building positive relationships within, and between, communities is one of the key aims of the PEACE IV Programme, which has been specifically designed to support projects such as this," she continued.

Match funding for the project has been provided by the Executive Office and the Department of Community and Rural Affairs in Ireland.

For more information, visit www.belfastcity.gov.uk/creativecommunities, where you can register to receive project updates.