Date: 23 Oct 2020
Category: Culture and arts
---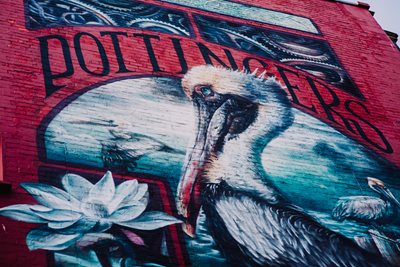 A series of eye-catching murals have been finished this week as part of an ongoing Belfast City Council project to regenerate the city's historic entries.
The new public artworks at Joy's Entry, Pottinger's Entry and Winecellar Entry are part of the Council and Department for Communities funded project, which has seen seven Belfast entries given a makeover in recent months, benefitting from general repairs and repainting, as well as planned enhanced lighting using innovative technologies and sustainable materials.
Work on the final mural celebrating one of the first black abolitionists to visit Ireland; a portrait of Olaudah Equiano, is set to get underway next week.
Speaking ahead of International Artists Day this Sunday (October 25), Belfast Lord Mayor Alderman Frank McCoubrey said it was timely to shine a spotlight on the public art, which has been drawing the attention of passers-by over recent weeks as work has progressed.
Alderman McCoubrey said it was also fitting to see work begin on the African abolitionist's mural, highlighting his legacy and his links to Ireland and Belfast, during what is Black History Month.
"It's great to see the Belfast Entries project nearing completion with more impressive murals finished this week," said Alderman McCoubrey.
"I'm delighted that we have been able to give local artists a platform to showcase their incredible talent, while at the same time, transforming these historic entries and inspiring people to find out more about their connections to the past. These entries have been a part of the fabric of our city for decades, with their own fascinating links to Belfast's past. This project was about celebrating that unique heritage, and encouraging people to find out more about the places on their doorstep."
He added: "The Belfast Entries project is part of our wider regeneration plans for the city, as we look ahead to our recovery from the ongoing pandemic, and focus on how we can think differently about how we use our city centre spaces and create a better connected, greener, walkable city.
"Public art enriches the fabric of any city and there has been an increase in Council-led regeneration projects which is focused on making our streets and spaces more vibrant and exciting, celebrating the work of both local and international artists who have created something of an open air gallery on the city's streets through the Belfast Entries project among others."
Communities Minister Carál Ní Chuilín said: "I am delighted to see another stage of this exciting project being completed. The entries are of historic significance and enhance the rich heritage of Belfast while providing opportunities for new walking routes around the city centre.

"Sunday 25 October is International Artists Day and the past few months have been very difficult for local artists. This project has provided an opportunity for local artists to contribute to the regeneration of the city centre and the enhancements to the entries will help to promote the city centre during the recovery phase and beyond as things return to normality.
"When the final works are completed, including the installation of the bespoke lighting which the Department is funding, the entries will also provide an exciting addition to the tourist experience in the city centre."
Speaking about the inclusion of the Olaudah Equiano mural as part of the project, Livingstone Thompson, chair of ACSONI (African and Caribbean Support Organisation NI), said: "From the point of view of the African and Caribbean community here in Northern Ireland, we feel it is important that we engage with the past with honesty, and courageously face the light that figures like Equiano shine on the present.
"As an abolitionist he was forthright in his critique of those who wanted to benefit from the subjugation of others. By him we learn to expose racism and the abuse of power, a task that is equally urgent in our time."
Murals depicting Mary Ann McCracken and other lesser known characters such as Robert A Wilson have been completed as part of the project. Interpretative panels are also going up in the entries so that people can learn about the characters' links to the city. Other murals give a nod to Belfast's punk scene and its linen and maritime history, and the theme of water also runs through the project; a reference to the River Farset.
The city's urban art scene has also been boosted by a creative partnership with Destination CQ and Belfast One Business Improvement Districts (BIDs), which has seen dozens of utility boxes transformed with colourful art by up and coming artists as part of the Belfast Canvas project, which is about to enter its second phase.
Kathleen McBride, from Belfast One said: "The Belfast Canvas initiative has added colour and vibrancy to our city centre streets and we're excited to see this expanding throughout the area. We look forward to seeing more eye-catching designs over the coming months! The new entries artwork is also a welcome addition to the city centre."
A virtual Belfast street art guide has also been created, enabling people to explore the Belfast Entries and Belfast Canvas artworks along with other creative instalments across the city, from the comfort of their own sofa. The guide can be accessed via the Council website at www.belfastcity.gov.uk/public-art
Damien Corr from Destination CQ added: "This self-guided tour is a great, safe way to enjoy the city centre. Belfast is becoming increasingly well-known for its street art and the Cathedral Quarter is filled with works by renowned Belfast based and international artists, that many locals have yet to discover. We'd encourage you to check out the guide and go and see the artwork for yourself."
To read more about the Belfast Entries project, visit www.belfastcity.gov.uk/regeneration and join the conversation on social media, following the hashtag #belfastentries