Date: 01 Jun 2020
---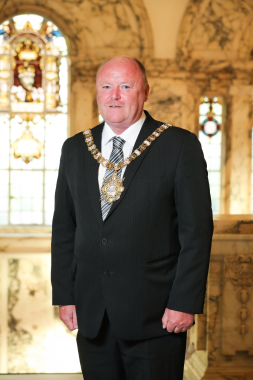 Councillor Frank McCoubrey has tonight been elected the new Lord Mayor of Belfast.
Speaking at tonight's Council AGM at City Hall, Councillor McCoubrey – who represents the Court electoral area - said he took over the chain of office "in the most challenging of circumstances" and said community and resilience would be at the heart of his year in office.
"Communities across Belfast have demonstrated the true spirit of the city throughout this ongoing pandemic, and I have seen first-hand how people are helping their neighbours and supporting one another," said Councillor McCoubrey.
"It is my hope that there is a ray of light at the end of this, where people and communities will build on this spirit of cooperation and go on to build a better Belfast for future generations. We are a resilient people and a resilient city, and we will get through this, together."
He added: "Special tribute must be made to all those who have worked on the frontline throughout this crisis - in Council, in our health service and emergency services, care homes, and our business community. Many individuals and groups have made such a difference throughout our city, looking after the most vulnerable day after day. They are what makes this city what it is, and we should be eternally grateful to those who have stepped up.
"It is also important that we pay tribute to those who have lost their lives over the past few months, and their families. It has impacted so many, so quickly that it has transformed our whole way of life. During my term I will make it my priority to determine how we can best remember those who have lost their lives, to offer a place of remembrance and tribute."
Councillor McCoubrey also paid tribute to the outgoing Lord Mayor and Deputy Lord Mayor, Councillors Daniel Baker and Peter McReynolds, for the positive leadership they had shown.
Commenting on taking up the position of Lord Mayor, Councillor McCoubrey added: "It is a privilege and an honour that I, someone who has represented working class communities for almost 24 years, have been given this opportunity. I know there are challenges ahead in terms of how we help communities and our city recover from this unprecedented set of circumstances which has impacted cities across the globe; but with leadership, working together and ambition we can make this year one of rebuilding for a better future."
Councillor Paul McCusker has become the new Deputy Lord Mayor of Belfast. A councillor for the Oldpark electoral area, Councillor McCusker takes over from outgoing Deputy Lord Mayor, Councillor Peter McReynolds.
Tonight's AGM was held at Belfast City Hall however a limited number of councillors were in attendance in order for Members to be able to observe social distancing within the Council Chamber.
Tonight's proceedings were also streamed via Council's live webcast.