Date: 05 Dec 2018
Category: Seniors
---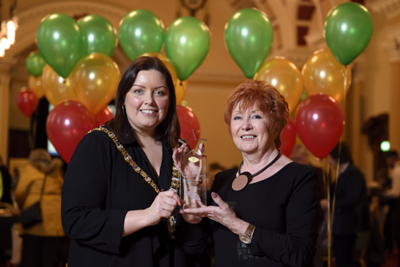 Older volunteers are providing so much value in their support for community groups across Belfast – that judges for the Age-Friendly Older Volunteer Awards are 'seeing double' in almost every category.
Joint winners in three out of the five categories were announced in an awards ceremony at Belfast City Hall today. They included winners of the prestigious Older Volunteer of the Year, Making a Difference and Good Neighbour Awards.
Iris Shannon, nominated by East Belfast Mission, and Athletics Northern Ireland's John Glover, each received an individual Older Volunteer of the Year award. The awards were presented by Belfast Lord Mayor, Councillor Deirdre Hargey.
Iris volunteers in the Hosford Homeless Project Going Green co-ordinating groups on Health and Wellbeing, Gardening and Community Arts. East Belfast Mission said that through her excellent interpersonal skills "she has made a great impact on our clients, raising their self-esteem and confidence through understanding what it's like to walk in another's shoes."
John Glover, was unable to attend the awards, but wife was nominated by Athletic NI, after 50 years spent participating and helping others enjoy the sport. He still enjoys running, cycling and hammer throwing but in the last year alone could also be found acting as volunteer announcer, course measurer, competition organiser and coach. They describe him as 'an invaluable member of the athletics community."
Lord Mayor, Councillor Hargey said: "People are one of Belfast's most important resources and that applies whether they are economically active or not. Many community groups could not exist and make the differences they do without the constant support of volunteers like yourselves.
"You are all doing a really worthwhile job, giving up your free time to help others. While it is wonderful to be able to recognise some of you here today I also want to thank those who aren't here and who volunteer in any capacity. We really appreciate the work you are doing across the city," added the Lord Mayor.
The event at City Hall provides an opportunity for community groups across Belfast to publicly thank their volunteers by highlighting the work they do.
Jeananne Berry (Action on Elder Abuse) and Nan Carville (Action on Hearing Loss) are Joint Winners of the 'Making a Difference' Awards. The Good Neighbour awards also proved difficult to choose with judges finally deciding on Joint Winners again.
Joe Jordan from Black Mountain Older Men's Group, and Sheila Donald, nominated by her neighbour Michelle McEwan were presented with the 'Good Neighbour' Awards. Joe was described as the cornerstone of the Black Mountain Older Men's Group quietly 'getting on with it' while Sheila was said to be 'a true example of a good neighbour' – helpful, kind, always there to help no matter what needs done.
Community Projects Volunteers took the Team Award after being nominated by Volunteer Now who said they stood out for their dedicated and dependable service as drivers, mentors and befrienders 'crucial roles in keeping those who are socially isolated connected."
A fantastic advocate for volunteering, who actively encourages others to do so, Jan Harvey received the Marie Mathews Participation Award after being nominated by NI Chest, Heart and Stroke. Besides working with them she also volunteers with the Metropolitan Arts Centre (MAC) and the Spectrum Centre on the Shankill Road, Belfast.
More information on the awards is available at www.belfastcity.gov.uk/oldervolunteers