Date: 10 Dec 2019
Category: Seniors
---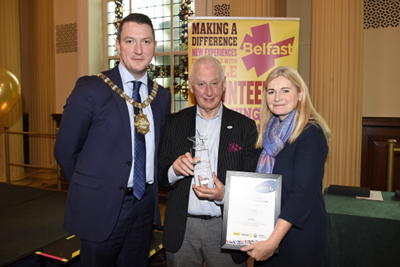 The selfless hard work of Belfast's older volunteers was celebrated at City Hall today (Tuesday 10 December) at the Age Friendly Older Volunteer of the Year Awards 2019.
Aimed at those aged 60 years and over, the awards shine a spotlight on the invaluable contribution older people make to the life of the city through volunteering.
Lord Mayor of Belfast, Councillor John Finucane was on hand to present the awards. He said: "Volunteers play such a vital role in the success of our city and I'm delighted to join in today's celebrations to give proper recognition to the great work of our older volunteers. It's heart-warming to hear the stories of the positive impact they are having in organisations and communities' right across Belfast.
"Through their continued selfless acts they're providing a shining example to our younger people. I want to congratulate all of our award winners and nominees and encourage them to continue with their great work."
This year's Older Volunteer of the year is Frankie Corr, nominated by Sharon Quinn from Lighthouse, for his selfless work as a befriending volunteer. Sharon explained: "Frankie is a friendly smiling face to those going through immense trauma in their lives, a compassionate listening ear for those who just need to talk and be understood and an empathetic survivor, who has already gone through the worst that life could throw at him, and come out the other side, selflessly supporting others."
The Marie Mathews Participation Award was awarded to Colin Flinn. Nominated by Gail Whyte from Age NI, Colin volunteers his time as a peer facilitator, information ambassador, active fundraiser, as well as being a Trustee for Age NI. Linda Robinson, Chief Executive Age NI says of Colin: "He is one of our most prolific volunteers. His knowledge of Age NI is second to none and his time and dedication to ensuring that the voice of older people is at the heart of what we do, is highly respected and valued."
Lyn Cooke was presented with the Contribution to City Life Award for her work as a volunteer with HMS Caroline as part of their Learning & Engagement, Curatorial and Visitor experience team. Emelia Regattieri, Volunteer co-ordinator with HMS Caroline said: "Lyn helps us deliver an outstanding visitor welcome by greeting members of the public, helping them navigate the historic spaces on board as well as sharing with them the unique history of the ship". As well as donating time to HMS Caroline, she is also involved with the Special Olympics, Belfast Marathon and Half Marathon, the Balmoral Show and the Irish Football Association. Amongst other things, Lyn has also been a Glider bus ambassador.
The Team Award was presented to the Volunteer Now Event Volunteers. This team is a group of people from all walks of life supporting the delivery of a broad range of events which showcase Belfast not only to tourists, but to locals as well. Nominator Lauren Harrison said: "Our volunteers stand out because of the warmth, dedication and energy they bring to every event. They have incredible patience, excellent customer service and respect all of the people they come into contact with. They are a wonderful advertisement for volunteering, and by their presence encourage many more people to give back in their communities. Our volunteers demonstrate commitment and perseverance."
For more information on the Age-Friendly Belfast Older Volunteer Awards, go to www.belfastcity.gov.uk/volunteering