Date: 13 Feb 2020
---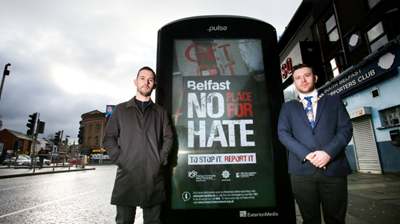 An event will take place at City Hall on Thursday 27 February to look at the rising issue of online hate crime.
An event will take place at City Hall on Thursday 27 February to look at the rising issue of online hate crime.
Hosted in association with the Belfast Policing & Community Safety Partnership (PCSP) and the Police Service of Northern Ireland (PSNI), the evening event will feature an interactive question and answer session with a panel of leading professionals.
It coincides with the launch of a new ad campaign encouraging people to report hate crime.
Deputy Lord Mayor, Councillor Peter McReynolds said: "The internet has changed the way we communicate and while it has many positives, it has also allowed for the spread of hateful content to a wider audience. The message of this campaign is that there is No Place For Hate – all forms of hate crime are unacceptable, both on and offline. The message is simple: to stop it, report it."
He added: "Online hate crime is becoming increasingly prevalent and I commend both Belfast PCSP and the PSNI for trying to tackle the issue and making it part of the conversation. This interactive event is free, open to the public and will highlight both the steps being taken to tackle online hate crime and how we can move forward as a society."
Speaking ahead of the event, Councillor Michael Donnelly, chair of Belfast PCSP, said: "It is becoming increasingly necessary to highlight crimes which take place online and highlight to members of the public that they have the power to help stop digital crime.
"I look forward to welcoming members of the public to City Hall on 27th February as we discuss the work currently being undertaken to tackle online hate crime.
"We are also highlighting Judge Marrinan's Hate Crime Legislation Review which is currently open for the public to consult on, and are delighted to welcome Judge Marrinan himself to speak about his consultation paper, the problem of online hate and also freedom of speech online."
Other speakers include Chara Bakalis of Oxford Brookes University and Fadzai Madzingira who will speak about Facebook policy and how the social media platform is trying to tackle online hate crime and support their customers.
The No Place for Hate conference will take place on Thursday 27 February with refreshments being served from 6pm in The Great Hall, City Hall.
For catering purposes, it is requested that anyone planning to attend should RSVP to hamiltonr@belfastcity.gov.uk or call 028 90 320 202.
Residents can also have their say on hate crime at the Hate Crime Legislation in Northern Ireland independent review here: www.hatecrimereviewni.org.uk.