Date: 03 Mar 2020
---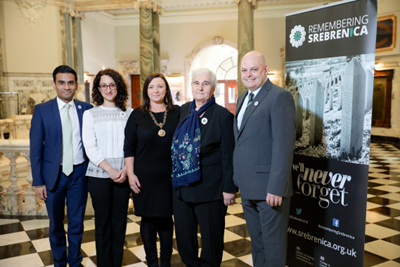 To mark the 25th anniversary of the Srebrenica genocide, Belfast City Council hosted a commemoration event today (Tuesday 3 March) to remember those who lost their lives in July 1995.
In partnership with Remembering Srebrenica UK and Remembering Srebrenica NI, the aim of the event is to raise awareness of the anniversary and reflect on how it relates to prejudice, peace, justice and reconciliation.
Over 8,000 Bosnians, mainly Muslim men and boys were massacred in and around the town of Srebrenica during the Bosnian war. Both the International Tribunal to the former state of Yugoslavia and the International Court of Justice ruled the acts committed constituted genocide.
Speaking at the event The High Sheriff, Councillor Nicola Verner said:
Today marks an important and poignant milestone for us all, to poignantly remember those who suffered unimaginable horrors in the Srebrenica genocide.
The event challenges us to look at our own thoughts and actions and how we must send a clear message to future generations. Remembering the painful truths is important and key to our shared vision for a better and more tolerant society, free from pain and discrimination.
I want us all to reflect on how we can be leaders of change in our own city and in turn create a place where people feel valued and connected.
Belfast City Council continues to stand with those who suffered as a result of the Srebrenica genocide and I am honoured to have had the chance to listen to survivors and I commend their campaign to seek the truth and achieve justice in a peaceful way."
Councillor John Kyle, Chair of Shared City Partnership also attended the event and said:
"I am inspired by the actions of survivors like Munira and the Mothers of Srebrenica. Despite everything they have been through, they have never sought vengeance and never acted with hatred. Instead, they have campaigned for justice. I hope their actions inspires young people around the world to turn their back on prejudice and embrace acceptance and tolerance."
Amil Khan, Director of Remembering Srebrenica UK also commented on the event and said: "We were delighted to be part of such a powerful and moving event which demonstrated how many issues Northern Ireland and Bosnia have in common after two decades of their peace processes. Issues such as managing diversity, trying to ensure power sharing arrangements in government deliver for everyone, acknowledgement and dealing with the legacy of violence are as pertinent to reconciliation in Bosnia and Srebrenica as they are in Northern Ireland."
More information on Council's Good Relations strategy is available on our website www.belfastcity.gov.uk/community/goodrelations