This page is more than a year old and may not contain the most up-to-date information.
Date: 30 Nov 2021
Category: Supporting communities
---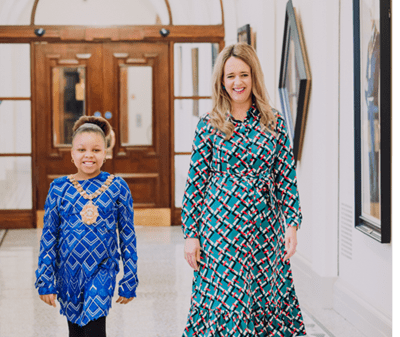 A 9-year-old schoolgirl has had a taste of political life in Belfast after becoming the city's Lord Mayor for one day only.
Ezinne Nwosu, a pupil at Holy Family Primary School in north Belfast, was joined at City Hall this morning by Councillor Kate Nicholl who handed over the chain of office ahead of a busy day of engagements.
Ezinne came to Belfast two years ago with her Nigerian family. She was given the opportunity to become Lord Mayor for the day thanks to an initiative organised by Africa House, aimed at encouraging young people from our BAME community to become engaged in political life from an early age.
At a press conference at City Hall this morning, Ezinne outlined her manifesto for her time in office.
"I am really happy to have this opportunity to be the Lord Mayor of Belfast," said Ezinne.
"I will work hard to make sure all immigrants and ethnic minorities are not left out, and that they feel safe, happy and at home in Belfast. I will also work hard to ensure we have a very safe and healthy environment that is friendly to the ecosystem.
"I will think about planting more trees in Belfast, and about how we manage waste. I will ask everyone to reduce, reuse and recycle. And I will make sure that young people, like me, have a voice when decisions are being made."
Ezinne – who loves to play Roblox and lists singing, reading, cooking and dancing among her hobbies - attended a number of engagements alongside Councillor Nicholl including the official opening of new state-of-the-art sports and leisure facilities at Avoniel following a £8million investment by Belfast City Council as part of its leisure transformation programme.
She also visited her school for a Q&A session with her teacher and classmates, attended photocalls and visited Circusful in the city's Cathedral Quarter before returning to City Hall to host a small reception for her family and members of Africa House, alongside Councillor Nicholl.
Councillor Nicholl said: "I am immensely proud of Ezinne and how she has carried out her duties today. She is a credit to her family and her school and I hope that today has inspired her and her friends to perhaps consider a future in politics, and to become more engaged in political life here, to make their voices heard and to be represented.
"Belfast is a diverse city; people from a multitude of ethnicities and cultures have made it their home, and we need to see that reflected in political life and at local government level, and to encourage those from BAME backgrounds to become actively involved in politics here. I hope that Ezinne will be an inspiration for other young people. I know she has a very bright future ahead."