Date: 03 Jul 2020
---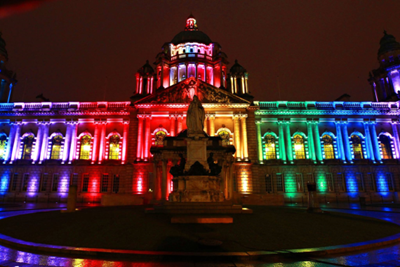 Residents are being asked to send in their 'snaps' of their rainbows artwork for display in a virtual exhibition soon.
The painted rainbows paid tribute to the NHS and frontline workers during the pandemic with the Council now seeking to showcase these in a special gallery on its Facebook page to recognise this period in time.
When the virtual exhibition is unveiled soon, City Hall will also light up in the colours of the rainbow.
Lord Mayor, Alderman Frank McCoubrey, said: "The idea for the 'Rainbows for Hope' virtual exhibition came from my fellow Councillor, Peter McReynolds, to acknowledge the amazing efforts of the NHS, health and care workers and our frontline workers in recent months, as well as, the hope and positivity of the public.
"Throughout this pandemic, rainbows have become very symbolic and have been adopted by communities across the city, with people hanging rainbows in their windows and children making drawings and banners - so we want to capture some of that and help spread the rainbow.
"Our city is moving into the first stages of recovery now but it's important that we pause to reflect and record the last few months in the city's history - and this is just one way of doing that."
Residents should email their photos of their rainbows artwork to spreadtherainbow@belfastcity.gov.uk
The 'Rainbows for Hope' virtual exhibition will then go live on the council's Facebook gallery with the City Hall lighting up in rainbow colours on the same day.
People are also being asked to share their rainbows with other planned exhibitions in the city.
St George's Market is calling on the public to share their rainbows artwork for display at the market this weekend.
The MAC will also showcase its 'Save those Rainbows!' exhibition later in the year. For more information, visit The MAC.