Date: 11 Sep 2018
---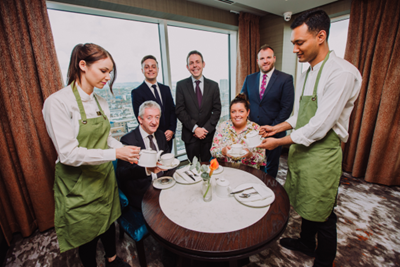 Interested in working in the hospitality industry? - then Belfast City Council and a range of partners are inviting you to a jobs fair in St George's Market on Wednesday 26 September.
The Belfast Hospitality Careers and Jobs Fair is running from 10am-3pm with more than 40 employers currently recruiting for hospitality and catering jobs with free advice and support for anyone considering a career in these sectors.
Tourism is one of Belfast's key growth sectors, attracting 1.5 million visitors a year, generating £334 million for the city's economy and supporting at least 18,000 jobs.
Aiming to bring together key partners to offer tailored local employment initiatives, NI Hotels Federation, Tourism NI, the Department for Communities, the Department for the Economy and Invest NI are working in partnership to organise and deliver the event.
Lord Mayor, Councillor Deirdre Hargey, said: "We are delighted to be working in partnership with these organisations in delivering the Belfast Hospitality Careers and Jobs Fair. I am encouraging everyone to come along and find out what the industry does and how to join it.
"The event is open to all, so even if it has just crossed your mind that you might like to work in the hospitality sector and don't know too much about it, the jobs fair will fill in the blanks providing information so you can decide whether to go ahead or not."
"The employers are interested in recruiting and the Council, with its partners, is setting up a Hospitality Employment Academy providing free training in the skills that will meet industry needs. Everyone who participates in the academy is guaranteed an interview for a job at the end of it," added Councillor Hargey.
Practical opportunities as well as information will be available during the jobs fair, with various zones to signpost exactly what is needed.
The New Horizons zone will have advisors from employability and training providers, and will include practical sessions on CV tips, developing interview skills and careers advice and guidance.
In the Skills Zone, visitors can try making mocktails, make up a hotel bed or learn about food preparation. The Hospitality Jobs Fair Zone gives the chance to meet employers face-to-face while the People of the Industry Zone provides insider information from current employees and employers about the industry and tips for hospitality interviews.
In a joint statement, the organisers said: "We are really pleased to be working in partnership to deliver the Hospitality Careers and Jobs Fair and we are thrilled that so many local employers are taking part.
"The hospitality sector in Belfast is growing at a rapid pace. Recently a number of wonderful new hotels have been built in the city, creating a range of exciting job opportunities. The fair will present a great opening for anyone considering a career in the hospitality industry and we hope people leave the event with lots of information and enthusiasm."
More information on the jobs fair and the Hospitality Employment Academy is available on our website www.belfastcity.gov.uk/hospitalityjobs or email economicdevelopment@belfastcity.gov.uk