Date: 17 Sep 2019
Category: Leisure
---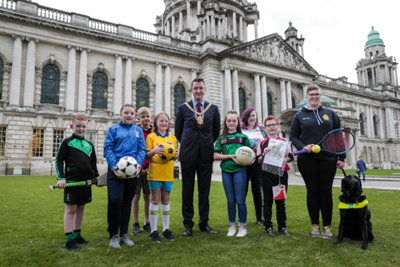 Sports clubs from across Belfast received the mark of approval from Belfast City Council, as Lord Mayor of Belfast, Councillor John Finucane, awarded them their Clubmark status. 
Belfast Clubmark is the council's quality accreditation scheme, which supports clubs to become best practice sports clubs. In partnership with Sports NI, council assess, support and accredit clubs, with the awards graded in bronze, silver and gold, based on a number of different factors.
Effective management, community engagement, quality coaching and competition, creating a safe environment and safeguarding members are all taken into consideration during the accreditation process.
Some of the most recent successful clubs include Belmont Bowls Club, CIYMS Tennis Club, St Malachys OB FC, Santos FC, 22nd Old Boys FC, Patrick Sarsfields GAC and Lagan Valley Orienteers.
Councillor Finucane was delighted to see so many clubs awarded with the accreditation. He said: "It's fantastic to see such a wide variety of sports receiving accreditation from our Clubmark scheme. It highlights how ambitious our clubs are in being the best they can be and in creating the right environments for their members to thrive and succeed at the highest level in their given sports.
"The work being carried out in sports clubs in communities right across the city is fantastic and I'm delighted that they're being given the recognition they deserve through our council Clubmark scheme."
He added: "I would encourage any interested parties to get in touch and see how they can bring their club forward to the next level."
Successful applicants can benefit from club development opportunities, development opportunities for coaches, administrators and volunteers, discounted courses as part of the council's coach education scheme, information and funding from our Support for Sport grant scheme.
Jane Mounsey, Outreach and Equality Officer at CIYMS Tennis explained the benefits of Belfast Clubmark for her club. She said: "Working towards our Bronze Clubmark provided us with an opportunity to assess our standards in coaching, safety and equality, to set goals through a development plan and to audit our standards in all areas. Through the process of obtaining Bronze we were able to improve and consolidate all areas of our club, and to build an active outreach department into our club.
"To obtain our Silver Clubmark, we were able to demonstrate our thriving outreach department showing active commitment to integrating those players with a disability, to continue our outreach work into the community and our engagement with local schools. She added: "We are currently working on our Gold Clubmark and all our coaches and volunteers have just taken a further disability awareness course to strengthen our knowledge and show adherence to our development plan. We are very grateful to Belfast City Council, Ulster Tennis and DSNI for their continued support."
For more information and to find out how your club can achieve Clubmark status please visit www.belfastcity.gov.uk/belfastclubmark.
Clubs can also benefit from Council's grant funding which includes Everybody Active Strand 4 funding and Sporting Halloween funding. For more information go to www.belfastcity.gov.uk/leisure/sportsdevelopment