Date: 07 Sep 2018
---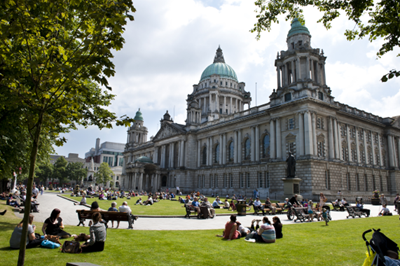 Belfast City Council, Primark, Belfast Chamber of Commerce and other city partners met this morning (Friday) to discuss their response to the recent fire at Bank Buildings.
"While no lives have been lost or injuries sustained as a result of this major incident, there remains a very serious risk to the livelihoods of those working and trading nearby, and all partners are committed to continue to work together with urgency to help those affected.
"The safety of the public continues to be paramount, along with the economic resilience of the city. A City Recovery Planning Group has been set up to co-ordinate actions in immediate response to the fire, and to develop a plan for building longer term recovery in the city centre.

Councillor Hargey reiterated: "We will working proactively with all our partners to restore the city to the very vibrant place that it is and we are making progress. It is vital that as a city, we continue to rally round to support those affected by this event both directly and indirectly.
"The impact of the fire will be felt for many months to come but I want to reassure our business community that they have our support and we will be with them every step of the way providing whatever support and assistance we can in the weeks and months ahead. I also want to encourage people to continue visiting our city centre and continue to rally round to support retailers.

"The Primark building is in a very dangerous condition and the Council has served a dangerous structures notice. Structural assessments are ongoing by Primark and independent professionals.
"What is immediately clear from initial assessment of the site is that there is no quick fix, and whatever solution is determined, including the option of demolition, will require a complex engineering operation. Vehicular access may be required to ensure this work is done in a comprehensive manner.
"Everyone remains committed to considering every opportunity to reduce the size of the cordon and the length of time it is in place, providing the safety of the public can be guaranteed.
"Actions are underway to ensure affected premises, both inside and outside the cordon, are supported during this difficult time.

"There has been daily contact with the businesses affected and a further meeting took place this afternoon (Friday).
"A dedicated phone line has been set up (028 9027 0483), with information also available from the Council's website at www.belfastcity.gov.uk/bankbuildings and, from next week, where this can be safely facilitated, the Council will begin assisting traders located within the cordon who wish to access their property. However, this will be done on a case by case basis, depending on locations, risk assessments and legal waivers.

"A list of vacant properties that could be used for possible relocation has been drawn up, and a facility for temporary office accommodation at various locations has been offered to businesses.
"Land and Property Services has issued businesses with updated advice regarding rates and Department for Communities are offering assistance and advice regarding benefits and employment for affected employees.
"Price Waterhouse Cooper has offered help and advice on issues such as insurance and business interruption.
"All options for increasing footfall and animating the city centre are being considered, and a campaign is urgently being developed with Visit Belfast, Belfast One and other city partners to support retailers and sustain visitors over the next four months.
"The installation of signage to encourage and direct footfall around the cordon and wider city centre is underway, and will be fully in place by Tuesday. Artwork is not yet visible but triangular structures identify where some of this signage will be.
"As this signage is a complementary suite of tools, it is crucial to install this in a sequenced manner to ensure it does not confuse visitors.
"Once this signage is in place, it will carry a website address with a map to help with navigation around the city centre. We will also tweet this out via our Twitter handle @belfastcc and we would encourage businesses and others to share this to show that Belfast remains very much open for business. Belfast ambassadors will also be on hand to assist pedestrians.
"We are in the process of commissioning an external agency to work with us on how best to further optimise routes experiencing a decline in footfall, and we are working with Translink and Roads Service to look at improving access and connections to Royal Avenue.
"A free weekend city centre shuttle bus, operated by Translink, will begin operating tomorrow (Saturday), connecting St George's Market, City Hall and Royal Avenue with a new stop in North Street.
"Full details of the route and service times are on our website www.belfastcity.gov.uk/bankbuildings and at www.translink.co.uk."