Date: 30 Aug 2018
---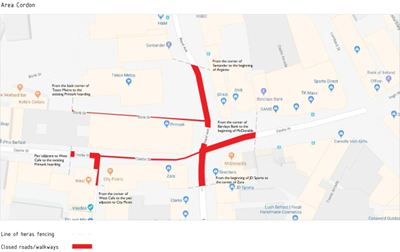 As the recovery operation continues following the fire at Bank Buildings, Belfast City Council hosted another multi-agency meeting at City Hall this morning to share information on the current situation and coordinate further actions.
The meeting was also attended by the Lord Mayor of Belfast Councillor Deirdre Hargey.

Councillor Hargey said: "The Northern Ireland Fire and Rescue Service has worked round the clock to extinguish the fire and keep the public safe, and it's encouraging to hear that the operation is being scaled back and the cordon has been reduced.

"Fourteen businesses remain within the cordon and we have uploaded a copy of the map on our website www.belfastcity.gov.uk/news. This can also be viewed here.

"Council is committed to doing everything it can to assist in the recovery operation and keep Belfast city centre open for business, and it's important that as a city, we rally round to support those affected by this devastating event.
"The first priority for all those involved in the recovery operation must be to make the building and surrounding area safe. Bank Buildings is an important part of Belfast's built heritage and the damage to this beautiful building has caused a real sense of sadness and shock.

"Every effort will be made to preserve the building and save the façade. Structural engineers continue to assess the building as far as is possible in the current circumstances, and are currently looking at how they might be able to preserve the façade; this is a complex piece of bespoke engineering and it will be some time before the building can be properly assessed.
"Belfast City Council will continue to host meetings for key holders and businesses to provide information and support in the days ahead.
"Council officers are also in close contact with businesses in the immediate area of the fire to offer whatever support they can to ensure they can continue to operate where possible.

"We are liaising with representatives from Primark to assist in any way we can should they wish to seek alternative accommodation within the city centre."
Download the area cordon map (PDF - 126KB)
Area cordon map - revised on 31 August 2018