Date: 19 Sep 2018
---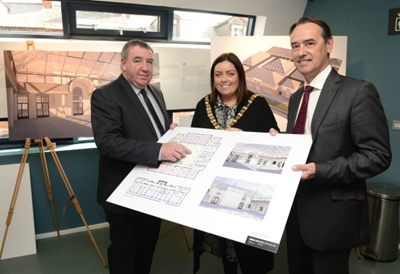 A £7 million project is getting underway to transform the site of a former west Belfast school into a mixed use community hub.
A £7 million project is getting underway to transform the site of a former west Belfast school into a mixed use community hub.
Lord Mayor of Belfast Councillor Deirdre Hargey announced today (Wednesday) that work is set to begin at St Comgall's on Divis Street, and the search is now on to find tenants to move in, once the building is complete in 2020.
Speaking at the community event in Culturlann, Councillor Hargey said: "This is a really exciting project and I'm delighted that Council is contributing £3.5m to the redevelopment – the largest amount to be awarded via our Belfast Investment Fund to date.
"St Comgall's is a beautiful building, Grade B1 listed, and this restoration will bring it back to its former glory for new generations to enjoy.
"When it is complete, this will be a fantastic resource for the local community and I'm certain it's going to attract a lot of interest from prospective tenants. I would encourage any groups or businesses who are interested in becoming tenants to get in touch."
She added: "Our vision for the city, as outlined in the Belfast Agenda, is to create employment and opportunity, foster business growth and increase tourist spend – and this project will do all three. When complete, this facility will be an important economic driver for the west of the city and will also be an important driver for tourism."

Council is delivering the project on behalf of Falls Community Council. The expressions of interest exercise for prospective tenants is now open – applications from established or fledgling businesses are welcome, as well as from social enterprise groups interested in running the café.
The expressions of interest is open for six weeks, until Wednesday 31 October, and all the details can be found on the Council's website http://www.belfastcity.gov.uk/stcomgalls
Belfast City Council's £3.5m investment is being matched by funding from the Social Investment Fund under the Delivering Social Change framework.
Dr. Mark Browne, Deputy Secretary, Executive Office said: "This project is a great example of central and local government working together with communities to deliver a shared vision with real benefits for local people."
Plans for the building include a multi-purpose function/conference hall, opening out onto a restored central courtyard with a glass pyramid roof, as well as an exhibition space, permanent visitor attraction, office accommodation and a café and information point.
Gerry McConville from Falls Community Council added: "This is a really exciting development for the whole of Belfast, but in particular, west Belfast. Falls Community Council has been working with the local community for over a decade to see this restoration happen so it will provide a good social and economic boost to the area to see the building redeveloped and back in use.
"As a school, St Comgall's was an important part of the lives of so many people and we look forward to it being an important part in the lives of many more for generations to come.
"Due to its location and the modern facilities, St Comgall's has to offer, we see this as an excellent opportunity for businesses to locate and we would encourage anyone looking for office or business premises to come and have a look at what is on offer."