Date: 23 Jan 2020
---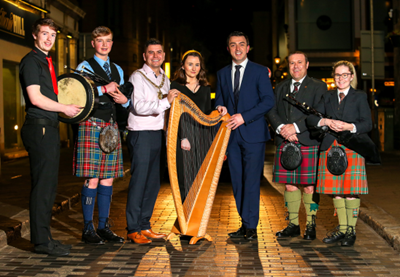 The third annual Remembering Bunting Festival was officially launched this evening in The Cloth Ear, Belfast.
Siobhan Armstrong of the Historical Harp Society spoke of her involvement in the event, "We couldn't be more delighted to be invited to take part in this remarkable festival once more. It is unique in celebrating the extraordinary music-collecting work of Edward Bunting, around 1800, and it captures his spirit beautifully in being a firmly cross-community endeavour. Belfast should be very proud to have such a wonderful festival.
Lord Mayor of Belfast, Councillor Daniel Baker, also spoke of the event,"It is an honour to attend the launch of the third Remembering Bunting Festival as we remember the legacy of Edward Bunting whose contribution to Irish traditional music is now enjoying the recognition it deserves. I would encourage everyone to come along to the festival in February and learn more about this talented organist who has helped to preserve Irish traditional music for generations to come."
The CEOL band opened the press launch with a musical performance featuring pipes and drums alongside traditional Irish instruments. The CEOL band acts as a bridge uniting diverse communities across Ulster through the medium of music. Speeches were presented by Ulster Comhaltas Ceoltóirí Éireann's, Brendan McAleer and Lord Mayor Councillor Daniel Baker as well as readings from author and Remembering Bunting Festival performer, Angeline King.
The Remembering Bunting Festival promises a weekend full of cultural and musical history with academic talks, film, interactive workshops, concerts, performances and more, with events free of charge and open to all.
For a full schedule of events and for more information, you can visit www.facebook.com/remembering-edward-bunting-festival, telephone Dún Uladh Cultural Heritage Centre on 028 8224 2777 or e-mail outreach@dunuladh.ie
The Remembering Bunting Festival is proudly sponsored by The Executive Office, Together Building a United Community (T-BUC), Queens University Belfast, Historical Harp Society of Ireland, Comhaltas Ceoltóirí Éireann and Dún Uladh Cultural Heritage Centre.