Date: 14 Nov 2018
---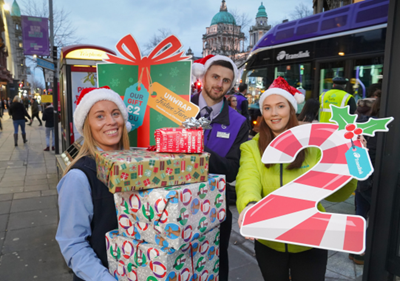 Translink has announced an extensive range of discount travel tickets and special services to support #YourBelfast this festive season.
Translink has revealed its most extensive range of discount travel tickets and special services to attract more people to shop and socialise in the city this festive season, in support of #YourBelfast.

The launch follows the recent Executive Office announcement that the Department for Infrastructure will provide extra funding to Translink to support delivery of a high impact festive travel campaign to support the city's recovery in the wake of the Bank Buildings fire.

Starting from November 17, the package includes day travel across the city for just £2 (£1 child) and additional bus, coach and train services including midnight departures.

Full details of the Festive Fares campaign are now available online at www.translink.co.uk/christmas

Translink Group Chief Executive Chris Conway says there are services and tickets for all sorts of Christmas travel requirements: "We realise the extra significance of Christmas this year for Belfast's economy following the Bank Buildings fire and we'd like to thank The Executive Office and Department for Infrastructure for additional funding to help us launch our biggest-ever selection of discount tickets and extended services to enable more people to enjoy all the city has to offer at this busy time of year.

"With traders offering so much choice coupled with all the city festivities, public transport is a convenient, great value and hassle-free way of travelling across Belfast whether it's for shopping or socialising.

"We're providing midnight departures on NI Railways, Metro and Goldline on Fridays and Saturdays during the festive period and main Park & Ride facilities will offer late night and Saturday services along with free parking.

"Our #Smartmovers team will be out and about across the city centre to assist customers with any travel enquiries and we've also arranged some in-station entertainment to add to the festive cheer! We're now encouraging everyone to visit translink.co.uk/christmas to find out more and follow us on social media for all the latest travel updates."

For full details on Translink's festive fares, services and celebrations visit: www.translink.co.uk/christmas, call 028 9066 6630.