Date: 28 Nov 2018
---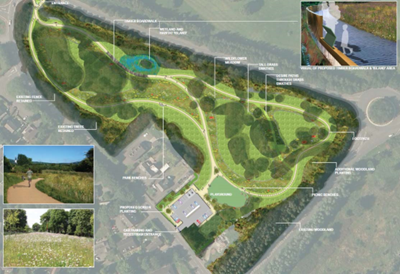 Work is to start in the next couple of weeks on a new park and playground in the Colin area.
Work is to start in the next couple of weeks on a new park and playground in the Colin area.

The facility will be on a piece of derelict land between the Old Golf Course Road and Upper Dunmurry Lane, and represents a £600,000 investment by Belfast City Council and the Department for Communities.

Alderman Jim Rodgers, Chair of the Council's Strategic Policy and Resources Committee, which is funding the project, explained the background to the project:

"This is a piece of land which has lain vacant since the Colin area transferred over to Belfast City Council in 2015, and which has been hotspot for anti-social behaviour. Now, it will be transformed into an invaluable community resource, fulfilling the aims of the Belfast Agenda to make life better for all of our residents by improving local areas."

The new park will feature a playground area, including accessible play equipment, a wetland island and wildflower meadow, pathways, picnic benches and car parking. It is scheduled to be completed by Spring 2019.

Welcoming the start of the work, Councillor Daniel Baker, Chair of the West Belfast Area Working Group, said:

"This is an exciting project which will provide a beautiful shared place for everyone in the local community to enjoy spending time. It also will be a great resource for local schools.

"Since its transfer from the former Lisburn City Council in 2015, Belfast City Council's commitment to the Colin area has been very clear. More than £17.5 million has been invested in capital projects in the area, including the new leisure centre at Brook, work on which is well under way and due to be completed next year."

Mary McCartan from the Department for Communities added:

"The Department is delighted to work in partnership with Belfast City Council to provide funding and assistance in delivering this scheme. The regeneration of this area will provide a welcoming environment and create new opportunities for social interaction and contribute to the health and wellbeing of the local community and visitors alike."

The new park is one of more than 200 projects currently underway across Belfast, as part of the Council's £325 million investment programme.