Date: 20 Sep 2019
---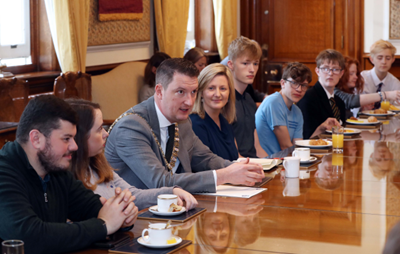 Lord Mayor of Belfast Councillor John Finucane has praised young people involved in today's climate demonstrations for their "strong civic leadership."
Lord Mayor of Belfast Councillor John Finucane has praised young people involved in today's climate demonstrations for their "strong civic leadership."
His comments came as he hosted a roundtable 'listening breakfast' in his Parlour this morning (Friday) to hear views from a range of sectors about the current climate crisis.
Representatives from the charity sector, students' unions and climate campaigners attended the event and highlighted their concerns around the need for action.
"Belfast City Council recognises the urgency of this issue and has already set up an all-party working group to look at climate change and what that means for our future – both as a Council, and as a city," said Councillor Finucane.
"I fully and wholeheartedly support today's action which has been initiated by our young people. Our young people are the next generation - the generation that will be most impacted by our actions - or indeed our inaction - now.
"Climate change has reached a point where we need to make urgent and concerted efforts to understand and prepare for its impact. We also have a responsibility as civic leaders to inform our residents and effect positive behaviour change in business and communities."
Belfast City Council is preparing to publish its draft Resilience Strategy which will outline a pathway for action around three key issues: climate, children and young people, and better connecting the city.
The city's Commissioner for Resilience Grainia Long also advises the group and makes recommendations to Elected Members on a series of interventions to build Belfast's climate resistance.
To coincide with today's climate demonstrations, the Lord Mayor has also announced that Friends of the Earth is to be one of his chosen charities for the year.
Councillor Finucane said: "Environmental charities have an important role to play in the current debate around climate change, and I'm delighted to be able to support and highlight the work of Friends of the Earth during my term in office.
"The charity's vision is for a healthy environment, happy communities, and worthwhile jobs, and I think that is an ambition we can all support and champion."