Date: 28 Sep 2020
Category: Digital Innovation
---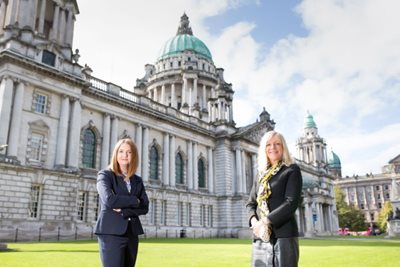 Dr Jayne Brady MBE, Belfast Digital Innovation Commissioner, has been appointed to the new UK Innovation Expert Group that will provide advice on how to drive up the UK's productivity through innovation.
As Belfast Digital Innovation Commissioner at Belfast City Council, Dr Brady is responsible for leading the city's digital innovation investment to help achieve inclusive economic growth, in partnership with business, government and education locally, nationally and internationally. She brings a strong commercial focus to her role.
The UK Innovation Expert Group's aim is to help review and improve how UK Government supports the whole innovation system, including strengthening the interactions between discovery research, applied research, innovation, commercialisation and deployment, taking account of the different innovation support systems across the four nations. Its formation is one of the first steps on the UK Government's recently published Research and Development (R&D) Roadmap, which sets out the UK's and ambition for science, research and innovation.
Chair of Belfast City Council's Strategic Policy and Resources Committee Councillor Christina Black, said: "Dr Jayne Brady's appointment to this group couldn't have come at a better time for us, as we begin to action the Belfast: Our Recovery plan, prepare to share Belfast's digital innovation ambitions, and progress our plans to transform the city region's economy through Belfast Region City Deal investment in the sector."
Suzanne Wylie, Chief Executive of Belfast City Council, added: "The UK government's objective is to position the UK as the world's leading research and science superpower – and the Belfast city region has a central role to play in that. Our universities have a rock-solid history of research excellence, we have a grassroots tradition of hard work and entrepreneurship, a highly skilled workforce, and our flourishing knowledge economy sector is punching well above its weight at national levels.
"It's fantastic to see our Digital Innovation Commissioner's expertise recognised at a national level, and of course to see the Belfast region claiming an important seat at the experts' table. Our digital innovation sectors have really shown their resilience in the last six months – and that they have an incredible contribution to make to the economy's COVID-19 recovery.
"We're already making great strides through our Belfast Digital Innovation Partnership, which brings together local government, our universities, Belfast Harbour and Catalyst to harness digital innovation to massively increase the city and region's productivity. We're focused on effectively commercialising the outputs of our research base, weaving digital innovation into every aspect of our economy and creating new and better jobs. Recently, fDi Intelligence ranked Belfast as the only UK city aside from Cambridge to make the top 10 'Tech cities of the Future' for 2020. We want to be number one – and with the right level of resources, we can make that happen."
Dr Jayne Brady, MBE, Belfast Digital Commissioner, said: "I'm honoured to take up membership of the UK Innovation Expert Group. We have an incredibly talented digital innovation sector – and with the focus of the Belfast Region City Deal, the Belfast Digital Innovation Partnership and now, the opportunity to shape the work of the UK government, we have a very exciting chance to realise its significant potential to transform our economy."