Date: 23 Dec 2020
---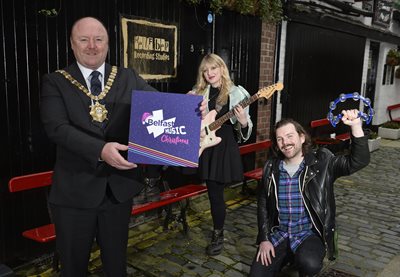 Every festive season, we hear familiar voices belt out the usual Christmas tracks across our radios and playlists. However, this year there's a chance to enjoy a local spin on some of these much-loved classics and experience some brand new seasonal sounds into the bargain.
Belfast City Council is delighted to present the Belfast Music Christmas Album, a series of specially recorded Christmas songs performed by many of our brilliant NI based musicians and bands.
The Lord Mayor of Belfast, Alderman Frank McCoubrey said: "We are delighted to be funding this showcase of talent that is the Belfast Music Christmas Album.
"I've been encouraged and inspired to see how local artists and musicians have adapted their activities and found new ways to channel their creativity during the pandemic.
"This album offers us all a way to connect with local artists again after missing out on our much-loved love music scene this year. It's a real gift to the people of Belfast and beyond, symbolising hope and bringing a sense of community and togetherness this Christmas."
With everything from songs you know and love, to brand new and original Christmas classics, this specially produced project has been curated by Shade Music and recorded and mixed mostly in Half Bap Studios, with over 30 local musicians taking part including Roe, Brigid O'Neill, Brand New Friend, Leah McFall, Joshua Burnside, No Oil Paintings and many more.
Producer Katie Richardson from Shade Music said: "It's been such a pleasure to work with Belfast Music, Half Bap Studios to bring you this new Christmas album of Northern Irish music. And a special thanks to the host of exceptionally talented local musicians, artists and bands. The standard of this album really does highlight the calibre of talent we have here as a potential UNESCO City of Music."
The Belfast Music Facebook page has been sharing a new song each day and they are encouraging everyone to tune in over the holiday period to bring some Christmas cheer across the city.
So for the festive feels as you wrap your pressies or a local flavour to your Christmas Day soundtrack, tune in at www.belfastcity.gov.uk/Events/Belfast-Music-Christmas-Album