Date: 01 Jun 2022
---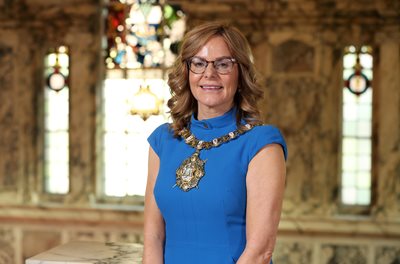 Councillor Christina Black has become the new Lord Mayor of Belfast at tonight's AGM of Belfast City Council at City Hall.
The Sinn Fein councillor, who represents the Court electoral area of north Belfast, takes over the chain of office from outgoing Lord Mayor Councillor Michael Long.
Councillor Long was in office for just three weeks, having taken over the role from Kate Nicholl when she was elected to the Northern Ireland Assembly in May.
Describing herself as a "hopeful community activist", Councillor Black said she was honoured to become First Citizen and was looking forward to working for communities across the city.
"I love this city. I was born and raised here in a strong working-class community and I am immensely proud to be a Bealfeirstian," said Councillor Black.
"As a community activist, I am committed to empowering local people and communities, and making sure people have a strong voice on their side. It's what inspired me to get involved in politics, and I am honoured to now be representing the city I love so much, as its First Citizen."
Councillor Black said one of her priorities for her term in office was to showcase Belfast's diversity, and support workers and families through the cost of living crisis.
She said: "I'm delighted to have this amazing opportunity. I'm passionate about this city and its people and I can't wait to get out and meet new people and find out more about the amazing work that's going on in communities right across our city. I will be Belfast's biggest ambassador and will use my time in office to keep pushing forward priorities around the inclusive regeneration of our city.
"Belfast is a confident and thriving city with enormous untapped potential to prosper further. The opportunities for our city to grow are endless and working together we can seize them. During my term I want to be a positive voice for everyone in this wonderful city."
Councillor Michelle Kelly has become the new Deputy Lord Mayor of Belfast. A member of the Alliance party, Councillor Kelly represents the Titanic electoral area, and takes over from outgoing Deputy Lord Mayor, Councillor Tom Haire.