Date: 09 Sep 2020
Category: Culture and arts
---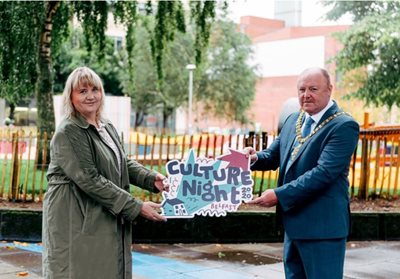 Belfast Lord Mayor Alderman Frank McCoubrey has helped to unveil Culture Night's 2020 core programme. There's a packed line-up of music, debates, art and thought-provoking films planned online for Friday 18 September.
Streaming across a number of virtual platforms, Culture Night Online 2020 aims to be accessible to those who would attend in-person each year, as well as those who have yet to experience the best of Northern Ireland's arts and culture scene.

The Lord Mayor of Belfast, Alderman Frank McCoubrey said:

"We are delighted to be supporting Culture Night again this year – a year which has been enormously challenging for our cultural sector. I have been so encouraged to see how many of our culture and arts organisations have adapted their activities and programmes to continue to develop and showcase the city's creative talent during the last few months. Culture Night will bring a spotlight to this and promises a wide range of virtual events to immerse yourself in on Friday 18 September.

"Belfast City Hall will also be lit up in pink and blue on the evening of 18 September to symbolise citywide support for cultural organisations and individual artists across the city."

Susan Picken, Director of Cathedral Quarter Trust (the charity behind Culture Night Belfast) said that the 2020 programme will be a spectacular online display of talent. Susan urged those logging on on Friday 18 September.

"Please take the opportunity to donate some of what you would have spent on a normal Culture Night," she said. "You can either donate here and we will send what we raise on to one of our nominated charities, or you can follow the links on individual submissions and donate to the artist, organisation or venue of your choice.
"Please help our arts and culture community to survive this difficult time and ensure a vibrant cultural future for all of us."

This year's core programme of commissioned pieces will see venues such as Belfast Cathedral, the Black Box, the Oh Yeah Centre and The MAC act as the backdrop to what is set to be an exciting evening of entertainment.

Susan said: "This year's programme is very different from what you may be used to, but we hope it captures the varied and eclectic mix of arts and culture you have come to know and love in the real-world event. There are three main strands for you to log on to, dip in to and enjoy: Core, Showcase, and Gallery. Core has a special programme of performances from iconic venues across the Cathedral Quarter which have been carefully chosen and commissioned by the team here at CNB.

"Showcase is an opportunity for our other artists and creators to get involved as it features online submissions from local artists, performers, creatives, venues, cultural organisations, businesses and more and demonstrates the wealth of homegrown talent at work across the city.

"Gallery is a special open submission visual arts strand introducing the work of a wide variety of artists encompassing painting, photography and much more."

Among the performers taking part this year in the CNB Online Core Programme are Cherrie On Top, Susie Blue, Sinead O'Donnell, tenx9, Charles Hurts, Becha, Stephen Beggs, Paul Currie, George Quinn, Rachael McCabe, Bounce Culture, The Swing Gals and many more.

The core programme, which is supported this year by Belfast City Council and Arts Council NI, will also include a specially commissioned piece by filmmaker Will McConnell called 'We're Still Here', two documentaries from Trócaire and the premiere of the Northern Ireland Human Rights Commission's film 'It Seems', along with a discussion chaired by NIHRC Chief Commissioner, Les Allamby.

For more information on this year's programme go to Culture Night Belfast (opens in new window)or follow #CNB20 #CNBonline on social media.