This page is more than a year old and may not contain the most up-to-date information.
Date: 02 Mar 2022
Category: Belfast Stories, City regeneration and development
---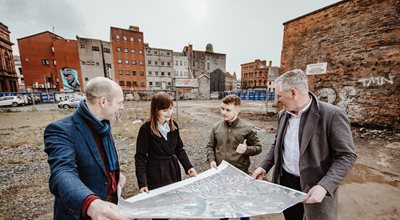 Early career architects either born or living on the island of Ireland are being invited to pitch their creative concepts for the temporary use of a vacant site on the corner of Royal Avenue and North Street, the location for the £100m Belfast Stories tourism destination.
The Storylines Design Competition 2022 is offering the winning architect, or team of architects, a budget of up to £120,000 (including up to £30,000 professional fees), a mentorship and the chance to see their concept for a meanwhile use become a reality at this key city centre site by December 2022.
Competition organisers, the Royal Society of Ulster Architects (RSUA), Belfast City Council and sponsor JP Corry are asking architects to pitch their vision of how this currently unused space could be made playful for people of all ages, incorporating pockets of nature and creating new social meeting places.
Chair of Belfast City Council's City Growth and Regeneration Committee Councillor Ryan Murphy explains: "This is a fantastic opportunity for early career architects – they could see their design become a reality and help animate our landmark Belfast Stories site prior to construction, due to commence in 2025. We want to bring forward the most innovative, beautiful and creative meanwhile use to support the city's ambitions for increased activation, greening of open spaces, and seeking meaningful uses for land that is vacant, pending development.
"We're passionate about reenergising and connecting our city spaces by creating more green space and greater cultural vibrancy, diversity and footfall – and architecture and urban design have a really important role to play in our city's regeneration."
The Storylines Design Competition provides an important platform for early career architects to showcase their talent – and to establish themselves in the city by taking forward their winning design in partnership with Belfast City Council.
Ciarán Fox, Director of the RSUA comments: "Architecture and urban design must play an important role in helping to respond to the major challenges facing our city and town centres. So we want to see concepts that reflect Belfast's Bolder Vision, demonstrate that our city centre is open and welcoming for socialising, for business and for visitors. We also want to see concepts which embrace our commitment to tackling the Climate Emergency and support vibrant and inclusive city centre living."
Ciaran McConnell of JP Corry adds: "We're delighted to sponsor the Storylines competition which will help early career architects showcase their talent, with the winning project helping people to engage with the landmark Belfast Stories visitor attraction. It's fantastic to see Belfast City Council and the RSUA encouraging exciting meanwhile uses on this vacant key city centre site and raising the level of ambition for architecture and urban design."
Early career architects interested in submitting a concept design can find out more at www.belfastcity.gov.uk/storylines.The deadline for the submission of proposals is 5pm on 30 March 2022. Entries will be judged by an expert panel and may be exhibited by Belfast City Council and the RSUA.