Date: 23 Dec 2020
---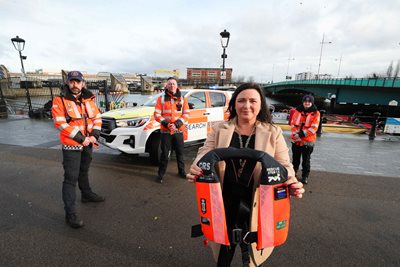 The High Sheriff of Belfast, Councillor Nicola Verner joined members of the Community Rescue Service (CRS) by the River Lagan to commend their work and mark the donation of a new set of life jackets for the service.
The donation is in recognition of the important work carried out by the service in communities right across Belfast. Councillor Verner said; "The selfless work carried out by the Community Rescue Service and their fantastic team of volunteers cannot be underestimated. More often than not, they are operating under incredibly difficult circumstances. It's important to recognise and support their great work and this donation is a just a small way of giving thanks to such a wonderful organisation."
The Community Rescue Service (CRS) is a charitable search and rescue organisation operated by volunteers from communities across Northern Ireland. They are the only accredited Lowland Rescue search and rescue organisation in N Ireland and hold full membership of the Association of Lowland Search and Rescue (ALSAR). For more information on the service visit their website at www.communityrescue.org.