Date: 14 Oct 2020
---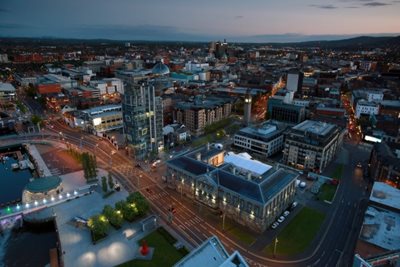 Belfast Lord Mayor Alderman Frank McCoubrey has said everyone has it within their power to help stop the spread of Covid19, after the NI Executive today announced new restrictions for a four-week period.
Alderman McCoubrey said he knew people were "tired" but that communities must support each other through the next few weeks and strictly follow the public health advice to help curb transmission rates of the virus, and help avoid a longer period of restrictions.
"I know that many people will be concerned about today's announcement of further restrictions and the impact that it will have on their lives and livelihood. It has been an exceptionally challenging few months for everyone, right across our city; families, communities and businesses have been hit hard by the impact of this ongoing pandemic. People are tired," said Alderman McCoubrey.
"Today, once again, I am appealing to everyone to pull together and keep going. We can get through this, and we can beat Covid together. Everyone has a role to play in helping to reduce the spread of this virus. Small acts do, and will, make a difference. Washing hands often, wearing a face covering and remembering to social distance are vitally important, and we must all continue to do what we can to protect our loved ones and each other.
"These new restrictions will be in place for four weeks and during that time, we all have a responsibility to ensure that we work together to help reduce the transmission rate in our community in order to avoid restrictions being in place for a longer period. No one wants to see us go back to a more widespread lockdown, but unless people take their personal responsibilities seriously, unfortunately that may become a reality.
"Now is the time for people to pull together with renewed commitment to doing everything within their power to help stop the spread of Covid19. Please continue to follow the public health advice and stay safe Belfast."