Date: 07 Sep 2023
---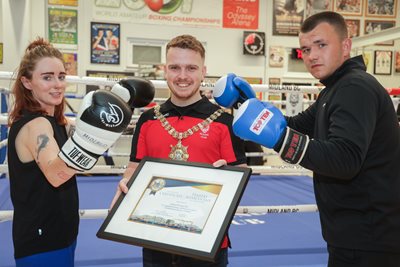 The Lord Mayor of Belfast, Councillor Ryan Murphy, has toured the new look facilities and met with users of Midland Social and Recreation Association, following its recent £700,000 refurbishment.  
The building, located in Tiger's Bay, houses a range of clubs, including Midland Boxing Club, Midland Senior Citizens, the 'Nifty 50s' group and Midland Art Club.
Councillor Murphy joined young boxers at an early evening training session to present them with a certificate recognising their sporting achievements and view their revamped gym area, which has been extended to include a second ring, new female changing rooms and an improved layout.

He also met with older users to hear how the social space within the building has been redeveloped with new accessible toilets and access ramps through the refurb project, which was funded and delivered by Belfast City Council, with additional support from the Garfield Weston Foundation.
Outside, further funding from the National Lottery Spaces and Places Fund has been used to transform a former section of disused land into a bright new community garden.

Councillor Murphy said: "What a great hub this building is for the local community, bringing people together to enjoy sport, improve their physical and mental health, and get together with neighbours and friends for company and craic.

"This upgrade has created a bright, welcoming space with plenty of room to enjoy everything that is on offer, as well as a new outdoor area which can be used all year round.

"The addition of a second boxing ring will allow the club to deliver more classes than ever before, while the new changing facilities will help encourage and make it easier for more women and girls to give boxing a go."

Sam Cochrane, Chairperson of Midland Social and Recreational Association, said: "It was great to welcome the Lord Mayor here to Midland and show him how this investment is already making a difference to our users of all ages.

"We know what our building means to those who come through our doors, and we want to take our club from strength to strength in attracting new members. These improved facilities give us the infrastructure to do just that."