Date: 05 Sep 2023
---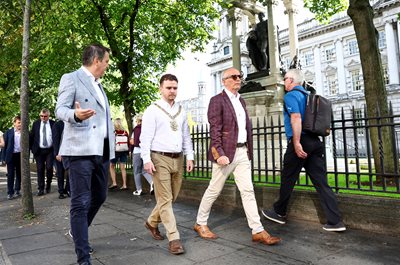 The Lord Mayor of Belfast, Councillor Ryan Murphy, met today with business leaders to hear about current city centre trading conditions and update them on initiatives underway to improve cleanliness and support revitalisation.
He joined Retail NI and Hospitality NI for a walk through the city's core, where he met with local retailers and independent traders, as well as council cleansing staff who work to keep the city clean.
The meeting follows a strong summer for tourism in Belfast, with hotel occupancy rates for June and July 2023 well above the same period in summer 2019, prior to the pandemic. Footfall in the city centre has also increased throughout 2023, following on from the opening of the new University of Ulster campus and the reopening of Primark.
Councillor Murphy said: "It was really valuable to spend time with traders and businesses today to hear what their priorities are and where they feel additional support is needed.

"We all want to make Belfast city centre a better place to live, work, visit and do business in and, while we're making good progress towards that shared goal, there is still work to do.
"Today's visit was an opportunity to listen to concerns, particularly around issues like dereliction, drug use, noise and how best to support vulnerable people, and get feedback on what's working and what could be done better."

Following the latest meeting of the council's cleansing taskforce, Councillor Murphy told representatives about efforts to boost cleanliness, as well as ongoing work with the PSNI, government departments, statutory agencies and others to address the complex issues associated with homelessness and addiction.
"Council is continuing to prioritise cleaner city streets, and traders agreed that they are seeing progress on that front," he said.

"New on-street recycling bins have been introduced over the summer, we have brought in more people and machines to maintain cleaning standards and we are working with commercial premises on how best to present bins for collection to help keep streets tidy and clear from obstacles, and prevent litter build-up.

"The three BIDs are also supporting our cleansing schedules with additional resources in high footfall areas and a public consultation will open this autumn on bye-laws to address noise and other issues.

"But there will always be room for improvement. We recognise that community safety is a concern for both residents and businesses, and our council is committed to supporting the work of relevant agencies in finding solutions which help those who are vulnerable."

The Lord Mayor also provided an update on initiatives to deliver on ambitions in the Belfast Agenda, the city's community plan, to create more jobs, encourage more people to live centrally and develop a more accessible and connected city centre.

"The pieces are slotting into place, with work underway, through our A Bolder Vision for Belfast strategy, to prioritise sustainable and active travel in our city core, to encourage more city centre living, to reconnect to our communities, and to re-embrace our place as a waterfront city to enable us to meet the challenges all modern city centres face," he said.
"Belfast does have vacant units to fill - our Vacant to Vibrant scheme has been really proactive in encouraging and incentivising organisations from all sectors to take on empty buildings and turn them into new premises, with 14 businesses supported so far and several more in the pipeline. Our Grey to Green initiative will also see funding distributed to create a temporary city centre farm and garden.

"In Cathedral Gardens, the Active Travel Hub has proven very popular since it opened, promoting the benefits of wheeling or walking around Belfast. In the longer term, this site will become a new public park for the city, with procurement now underway to appoint a design team to take forward this work."

Councillor Murphy also outlined other improvements coming up, following approval at yesterday's full council meeting.

"A series of interventions are planned for in and around Great Victoria Street, revitalising this vital corridor into the city, ahead of the opening of the new Belfast Grand Central station," he said.

"The next stage of work to reimagine Belfast's entries will begin soon at Sugarhouse Lane, Patterson's Place and Winecellar Street. These will complement vibrant new artwork and lighting recently introduced through the 5Cs project, with the Department for Communities, with more still to come.

"A design team will be appointed shortly for the game-changing Belfast Stories visitor attraction at the corner of North Street and Royal Avenue, options are being considered to better connect our cultural hub at 2 Royal Avenue with Bank Square and Castle Street, and our plans are moving ahead to create more inclusive city centre housing, making use of council and wider public sector-owned lands, following an open call to the market earlier this year.

"Later in September, we will also be announcing exciting plans for a year of culture and entertainment in 2024, with a real focus on local communities, as well as our city core. Together, these initiatives provide plenty to be positive about, but it's also vital that our city centre businesses are supported, included and have their voices heard."
In a joint statement, Colin Neill, CEO, Hospitality Ulster and Glyn Roberts, CEO, Retail NI said:

"This was a good opportunity to discuss the significant challenges and potential opportunities in the city centre. Belfast city centre is not just another high street, it is a regional economic driver for Northern Ireland as a whole."
"It is crucial that a strengthened, multi-departmental approach is needed to ensure we tackle the problems and make the city centre a fun, family-friendly and attractive destination for local consumers and visitors."